PT Leads Wednesday Sebring Tests with Surprise Pack of Rookies Giving Close Chase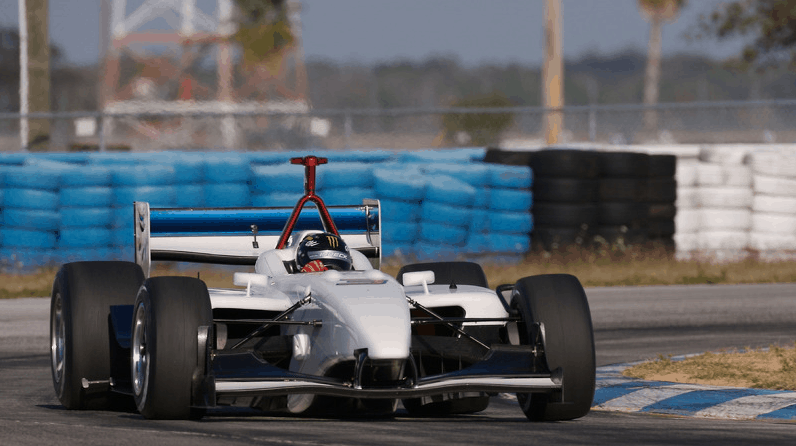 SEBRING, Florida (March 23, 2005) – As Champ Car's leading active driver in terms of wins, poles, starts and laps led, PT is accustomed to having people chasing him around the tracks of the Bridgestone Presents The Champ Car World Series Powered by Ford circuit.
Paul was again in his familiar spot atop the time charts as a pack of 13 cars took the test track in Sebring Wednesday, but his closest pursuers were an unfamiliar lot as a trio of rookies turned in strong performances on a wind-swept day in Central Florida.
PT hustled his Forsythe Championship Racing Ford-Cosworth/Lola around the 1.3-mile layout in 51.47 seconds to lead the field as teams prepare for the 2005 Champ Car opener April 8-10. He was the only driver to post 51-second runs in both the morning and evening sessions as he readied himself for a Long Beach race that he has already won four times.
"We worked through our task list today and we're very happy," Paul said. "The track isn't in the best shape and the weather wasn't working with us today, but to post a fast time is always important for us."
The weather was a major factor today as heavy cloud cover brought rain in the morning and high winds in the afternoon, halting track activity for nearly two hours. But with time running out before the Long Beach opener, teams wrung every drop of sunlight out of the day before shutting down at 7 p.m.
Rocketsports' prospective rookie Timo Glock turned in the second-best time of the day with a morning run of 51.64 seconds. The Sebring outing marks the third time that the former Formula 1 pilot has tested with the Michigan-based squad, and he continues to impress alongside new teammate Ryan Hunter-Reay.
"We have a good car for this testing session," Glock reported. "That is a result from our test in Fontana where we really focused on the setup. We went out on two sets of tires today. We had some problems with the rear brake pads, and I am still getting used to the car as well. The second set of tires posed as a problem for the car, as I kept battling in Turn One. We went back to the original set of tires and posted our quickest time of the day."
Another former Formula 1 driver opened eyes in the Champ Car paddock today as Jos Verstappen broke into the 51s with a best lap of 51.82 in his first day of testing with HVM Inc. Verstappen, a veteran of 107 F1 starts, made his first test in a Champ Car today and showed that he wouldn't take long to get acclimated.
"There is a lot to get used to with these cars compared to a Formula 1 car," stated Verstappen. "I have to get used to a lot of things, especially for me today getting a feel of running on cold tires and brakes. The HVM team works very well together and they are very easy to work with. I am happy with today's run and feeling pretty good. I am looking forward to seeing what will happen."
The last driver to post 51-second laps is the series' newest shoe as Canadian Andrew Ranger clocked a 51.97-second lap in his new Mi-Jack/Conquest machine. The day featured a number of new faces as well as some popular returnees. Former FIA International F3000 champion Bjorn Wirdheim ran with Dale Coyne Racing while veteran Oriol Servia made his first 2005 test appearance with alongside the rookie.
"Overall, it was great to get back in the car after four months and turning some laps," Servia said. "The car was ok, and I was pleased to see that the car was not much different from last season, so that gives us something to work with."
Ronnie Bremer ran in the second HVM Inc. machine today as the Indianapolis-based team auditioned a pair of drivers for a potential opening. The 2004 Toyota Atlantic competitor showed his ability later in the afternoon as he shaved a half-second off his best time for the morning. Last season's winner of the Bosch Most Improved Driver Award Rodolfo Lavin turned his first laps alongside Paul PT in the Forsythe machines today, running a full day and finding more than a second in the afternoon.
Former series champions Cristiano da Matta and Sebastien Bourdais did not run today, but are expected to test tomorrow at the Sebring short course layout.
The following are unofficial times from testing at Sebring. These times were provided by Cosworth Racing engineers.
Day 1
1) Paul Tracy, Forsythe Championship Racing – 51.47
2) Timo Glock, Rocketsports Racing – 51.64
3) Jos Verstappen, HVM Inc. – 51.82
4) Andrew Ranger, Mi-Jack/Conquest Racing – 51.97
5) Ryan Hunter-Reay, Rocketsports Racing – 52.06
6) Rodolfo Lavin, Forsythe Championship Racing – 52.10
7) Nelson Philippe, Mi-Jack/Conquest Racing – 52.13
8) Jimmy Vasser, PKV Racing – 52.39
9) Alex Tagliani, Walker Racing – 52.57
10) Oriol Servia, Dale Coyne Racing – 52.60
11) Marcus Marshall, Walker Racing – 52.60
12) Ronnie Bremer, HVM Inc. – 52.62
13) Bjorn Wirdheim, Dale Coyne Racing – 52.92
Day 2
1) Timo Glock, Rocketsports Racing 50.96
2) Jimmy Vasser, PKV Racing 51.09
3) Sebastien Bourdais, Newman-Hass Racing 51.15
4) Alex Tagliani, Walker Racing 51.18
5) Cristiano da Matta, PKV Racing 51.22
6) Ryan Hunter-Reay, Rocketsports Racing 51.22
7) Andrew Ranger, Mi-Jack/Conquest Racing 51.30
8) Paul Tracy, Forsythe Championship Racing 51.36
9) Oriol Servia, Dale Coyne Racing 51.42
10) Mario Dominguez, HVM Inc. 51.42
11) Roberto Gonzales, HVM Inc. 51.63
12) Nelson Philippe, Mi-Jack/Conquest Racing 51.63
13) Rodolfo Lavin, Forsythe Championship Racing 51.85
14) Bjorn Wirdheim, Dale Coyne Racing 51.90
15) Marcus Marshall, Walker Racing 52.59