Like a Caged Animal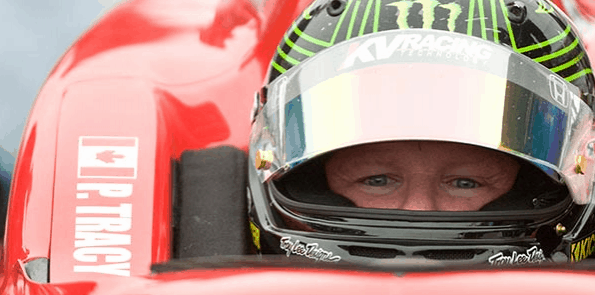 LIKE A CAGED ANIMAL, PT READY TO LET LOOSE IN INDY
Las Vegas, NV (May 10, 2010) – It is hard to believe that it has been nearly a year since PT made his first return visit to Indianapolis Motor Speedway since 2002. While a questionable call by the race steward sent Tracy home with a broken heart in 2002, last year was a bit of a different story. In fact, if not for a Tony Kanaan crash where Tracy collected debris and sustained slight aero damage, he may have won the Indianapolis 500 for a second time, er, for the first time. He instead recorded a 9th place finish in the #15 GEICO car and just minutes after the race voiced his intentions to return to Indy in 2010 and put his name in the history books.
Teamed with his best friend and car owner Jimmy Vasser, the duo sat together on April 17th in Long Beach where they once again announced their intentions to chase the Borg-Warner Trophy with GEICO as their partner in 2010. Naturally, Tracy fans, and IndyCar fans in general, were both encouraged and energized by the news. Tracy's aggressive, outspoken personality is what the IndyCar Series needs and with the Gecko by his side he is once again sure to garner the lion's share of press coverage when he arrives in Indianapolis this week.
It would be inaccurate to assume that Tracy needs an Indy 500 win to justify his career, but it would certainly be good for his soul. He is, without question, one of the most successful drivers to wheel a racecar and has already claimed his place in history, so one would ask why Tracy is returning to Indy. Because he wants it. This has never been more evidenced than by his renewed commitment beginning in January when he reunited with his former personal trainer and embarked on a physical training regimen more fit for a boxer. But, rather than stepping into a boxing ring, he will be stepping into the most historic speedway in the world where he will do battle with 32 other drivers who share his dream. The difference being that Tracy is willing to put the work in and do things that most others are not willing to do to achieve the desired result. When Tracy arises before the sun does, most of his counterparts are still dreaming about winning the Indy 500 while Tracy is busy making it happen.
Tracy is also busy fulfilling his media obligations and his days and nights have been consumed with photo shoots, magazine stories, interviews and, last but not least, filming a reality show for SPEED. He manages his time just as well he manages his racecar. And, in the midst of the chaos, he never fails to perform his duties as a husband and father; a side of 'PT' that people, other than the few who are close to him, rarely get to see. As most everyone is aware, Tracy has few friends, but the few he has believe in him and support him and provide a venue for him to express himself and be comfortable. His circle is a small one, but it provides him the strength and confidence he needs to be successful.
Tracy is aggressive, outspoken and colorful, but he is also passionate, focused and driven. He is quite aware of what lies ahead at Indianapolis Motor Speedway and, as the days pass, his relationship with inevitability grows considerably deeper. He has approached this year's Indianapolis 500 with a blue-collar mentality and will most certainly have his work cut out for him when he strolls through Gasoline Alley on his way to opening day practice. However, Tracy also knows that Indianapolis Motor Speedway is a magical place and that anything can happen on that 2.5-mile oval. Thanks to GEICO and KV Racing Technology, he will get another shot at claiming what he believes is already his.
"It's hard for me to really quantify what Indy means to me and how passionate I am about going there," Tracy said. "It's such a historic place, a place that has both made and broken careers, a place that has taken lives and that has given people a life. I'm so thankful for the opportunity that GEICO has given me to go back there and be a part of history. It also means a lot to be able to once again partner with my good friends Jimmy Vasser and Kevin Kalkhoven and the entire KV Racing team. We had a great year last year and I'm sure our effort this year will prove to be duplicative."
In recent weeks, Tracy has often characterized himself as a caged animal with a big steak sitting in front of him. On Saturday, May 15th, when Indianapolis 500 practice gets underway, that animal will be unleashed and while Tracy often speaks in metaphors, the 'steak' should be scared nonetheless.