PT 2ND AT LONG BEACH, NEW TEAMMATE MARIO DOMINGUEZ 5TH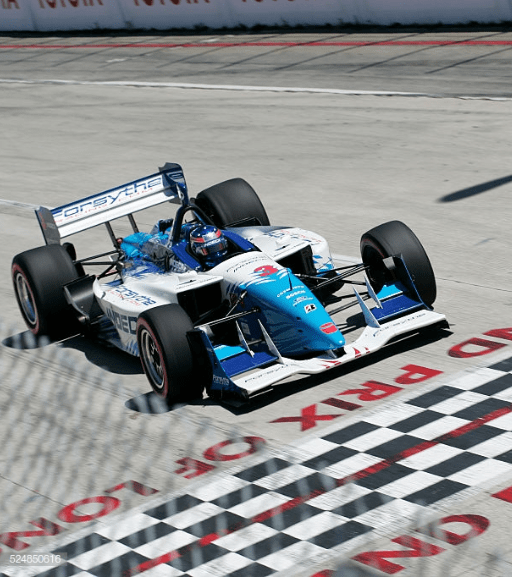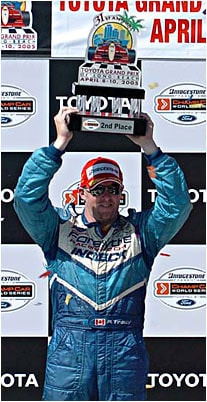 LONG BEACH, California – April 10, 2005 – It was a bit like kissing your sister, but Paul's 2nd place finish at the 31st annual Toyota Grand Prix of Long Beach was satisfying nonetheless. In taking Pole Position on Saturday, leading 23 laps on Sunday and securing the 63rd podium finish of his career in the Bridgestone Presents the Champ Car World Series Powered by Ford, Tracy scored valuable Championship points and was pleased with the outcome.
Paul: "We're right there. I've raced a lot here at Long Beach and that was one of the most hard-fought races I've ever run. We saw some lead changes and lots of passing, and this isn't the easiest place in the world to pass. We were fast on the first stint but for some reason as the race wore on we didn't get faster as the track came in and got more rubber on it. I also accidentally pushed the pit speed limiter coming out of the hairpin when Bruno (Junqueira) got by me, but I used Push to Pass on the restart later and got him back. Finishing 2nd is a little disappointing after starting from the pole but we're definitely on the pace this year and things look good for the rest of season.
"I'm proud of what the team accomplished in the off-season and we've got a great foundation for this year, maybe a little better than last year because we've done a lot more development on the car. The Bridgestone tires are very consistent and the soft alternate tire really adds some spice to the race strategy, and I think we saw that today. I thought we might challenge Sebastien (eventual race winner Sebastien Bourdais) after the last pit stop when we were on the soft tires and he was on the standard tires, but like I said for some reason we didn't get quicker as the race wore on like we expected. We'll have to look at the data and see if we can figure that out."
"I also should mention how impressed I am with this year's rookie crop. Everybody drove with their heads up and we didn't see many crazy incidents today. As some of these new guys get a little experience I think we're going to see some new faces showing up at the front of the field. This is as deep a field as we've had in this series for a long, long time, maybe the best ever."
As for PT's new teammate Mario Dominguez (#7 Indeck Ford-Cosworth/Lola/Bridgestone), who met his crew for the first time on Thursday and drove the car for the first time in Friday practice, Long Beach was a solid start to the season. After finishing that very first practice session 4th quickest, Dominguez backed that up by Qualifying 3rd on the grid during Saturday's Final Qualifying and finishing 5th in Sunday's 81-lap race.
"I'm satisfied, but not super happy" said Dominguez. "We got some good points but the brakes weren't working as well as I would like and I used all my Push-to-Pass early in the race so when Bruno (Junqueira) made a run on me at the next-to-last restart there was nothing I could do. Then Justin (Wilson) got by after I made a small mistake. I only had one day of testing in the off-season (with his previous team) so I'm still a bit rusty. But the team has been great and with the really deep field we have this year consistency is going to be very important. I've got a few test days coming up before Monterrey (Mexico, on May 22) so I think we'll be in good shape. I'm really looking forward to putting the Forsythe #7 car up front for the Mexican fans."
PT CLAIMS THE BRIDGESTONE POLE AWARD AT THE TOYOTA GRAND PRIX OF LONG BEACH
Paul set a new track record at Long Beach en route to claiming the Bridgestone Pole Award with a lap of 1:07.485 (104.983 mph). He bettered the track record set in 2000 by Gil de Ferran by only 9 one-thousandths of a second. This is PT's 23rd career pole position.
Paul: "This is great. We used our Bridgestone Optional tires yesterday and went faster, so we knew we had an opportunity to better the time today with those tires on. I knew if I could get the right lap and time that lap, that we could get the pole. I went around posting a fast time but it was not good enough to grab the pole. I had one more lap to go, was able to have the last lap clear and clean, then as I headed into the pit, I really wasn't sure where I was going to end up because I knew Sebastien (Bourdais) and Bruno (Junqueira) were on their final lap, so it was a bit of a nail bitter. But we were able to hold on to the top spot to earn the pole position. I am very, very happy for the Forsythe Championship Racing team today."
FORSYTHE CHAMPIONSHIP RACING ON TOP IN LONG BEACH QUALIFYING
LONG BEACH, California – April 9, 2005 – The deepest field in Champ Car history got a look at a seriously revamped Forsythe racing team as drivers PT and Mario Dominguez put a stamp of authority on Final Qualifying today at the Toyota Grand Prix of Long Beach, the opening round of the 2005 Bridgestone Presents the Champ Car World Series Powered by Ford, as Paul qualified on Pole with Dominguez close behind in third.
The leader among active North American open-wheel drivers with 23 career pole positions, PT took the Bridgestone Pole Award in dramatic style as he used the soft alternate Bridgestone Potenza tires (identified by their bright red sidewalls) to set a new track record, surpassing the five-year old mark of Gil de Ferran with a lap of 1:07.485s in the last few minutes of the session.
"We set a good time earlier in the session on the standard tires" commented Paul, "so we knew the reds (alternate tire) would be maybe a half second quicker. I got out at a good time and found some clear space on track, but had to deal with some incorrect split times on my dash. The team told me to ignore them so I just put my head down and concentrated, but I really didn't know how we were doing until I pulled into the pits. It was a bit of a nail-biter as we had to wait a minute or so for Bruno (Junqueira) and Sebastien (Bourdais) to complete their laps."
"It's great to set a new track record. When Gil set his record in 2000 the cars had about 150 more horsepower and a lot more downforce. The Forsythe team worked hard in the off-season to improve the shock and aerodynamic programs and today showed the results. These cars are so equal that all you can do is massage it bit by bit to make it faster and we've done that. My hat's off to the whole team. This is a great way to start the season."
PT was presented with the inaugural Bridgestone Pole Award, which includes a trophy and $5000 to the Pole-winner. In addition, $2500 goes to the Hole-In-The-Wall camp charity for sick children and $2500 to a local charity, in this case the Grand Prix Foundation. "It's great to win the first Bridgestone Pole Award" said Tracy, "but it's extra special when you get to give some help to kids in need."
Mario Dominguez, in his first event for Forsythe Championship Racing, was ecstatic to achieve a strong result. "Heck, I only met the crew on Thursday!" Dominguez said to laughter from the attendees at the post-qualifying media session. "I only tested one day in the whole off-season with my old team (HVM) and drove my first laps in the new car during Practice on Friday (where he recorded fourth quick time), so it's pretty amazing and shows just how strong this team is. I really couldn't be happier." Dominguez posted a lap of 1m07.803s and will start from the inside of Row 2, directly behind PT.
PT P2 in Q1 LONG BEACH
LONG BEACH, California – April 8, 2005 – Paul could not quite snag provisional pole from Bruno Junqueira despite a late charge with his fastest lap coming on lap 10 of 12 @ 1:08.494, just a little over a 10th behind Junky.
FORSYTHE CHAMPIONSHIP RACING GEARS UP FOR LONG BEACH
LONG BEACH, California – April 7, 2005 – Forsythe Championship Racing comes to the first event of the 2005 Bridgestone Presents the Champ Car World Series Powered by Ford having enjoyed a strong development program over the off-season and with a potent one-two driver punch comprised of veteran PT of Canada and newly-signed Mexican star Mario Dominguez.
Both drivers arrived in Long Beach on Tuesday night to embark on the traditional first-event duties of getting official photos and video footage completed, attending official media functions and, in the case of Mario Dominguez, getting to know the crew members he'll be working with this season.
"I'm new to the team and haven't even met the guys yet" said Dominguez, "so I'm really looking forward to Thursday so I can get to know everyone and get fitted into the car. I still have my seat from last year so hopefully it will fit right into the tub without too much modification, but everything has to be comfortable and perfect in order for a driver to get everything out of the car. We'll work on getting the pedals, gear shift and steering column positioned just right so that we can get out on the track for the first practice on Friday with no problems and get right up to speed."
"I've talked with Paul a lot and he's told me about the work they've done in the off-season testing that has produced a really good setup, so I'm excited to get behind the wheel of the #7 car and see what we can do together."
Paul, defending champion on the streets of Long Beach, is back in 2005 looking for his 5th win here. "This is such a great place to start the season, with very knowledgeable fans packing the grandstands and a great festival atmosphere. I'm eager to get out on the track and see how all our hard work over the off-season is going to pay off. The field this year is stronger than I can recall in my whole career so it's going to be a heck of a challenge, but I think we're up to the task. The #3 car is going to be tough to beat and anybody that wants to run up front better bring their A-game."
On Wednesday night, Dominguez was the featured guest speaker at the renowned Museum of Latin American Art, while PT headed out for some bike training with friends and competitors Bruno Junqueira and Cristiano da Matta. The Toyota Grand Prix of Long Beach can be seen live on NBC Sunday at 1pm PT (4pm ET/20:00 UTC), while live video and other features for all sessions including practice and qualifying are available online with Race Director. Visit www.champcarworldseries.com for more information.