Monterrey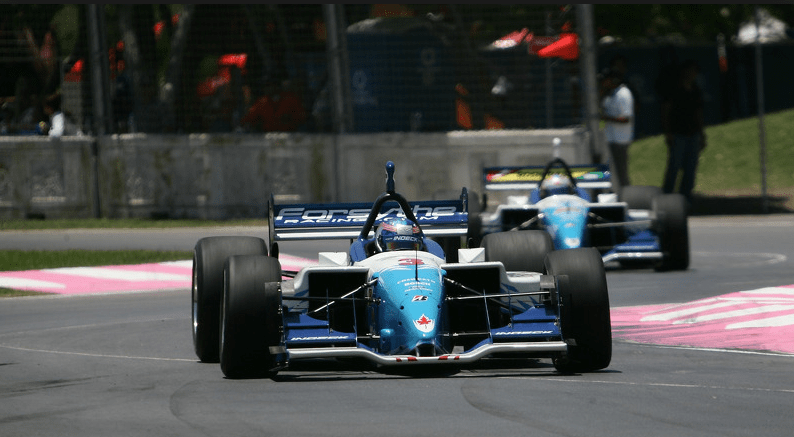 "I THINK THE GUY'S HAD A FEW TOO MANY HAPPY MEALS"
MONTERREY, Mexico – May 22, 2005 – PT and Mario Dominguez endured a tough day at the office at the Tecate/Telmex Grand Prix of Monterrey Presented by Roshfrans today as both drivers were knocked out of the event after being taken out by other drivers.
Dominguez, a native of Mexico City, was disappointed to end the race early in front of almost 100,000 disappointed Mexican fans on a day that started badly and only got worse. "That was the worst day of racing of my career, even going back to my karting days" commented a dejected Dominguez. "In the morning Warmup I grazed the wall coming out of the last corner and damaged the gearbox, so I had to change to the backup car for the race."
"The backup car has the identical settings as the primary car, but no two cars are exactly alike and sure enough when the race started I found out the backup car had terrible understeer. It was almost undriveable. I kept making mistake after mistake and could never find a rhythm. Then I went wide in a corner and Jimmy (Vasser) tried to get under me but rammed me instead, taking us both out. Just a terrible day for the Forsythe team."
Paul had a great race going as he passed leader Sebastien Bourdais with a scintillating first pit stop by the Forsythe crew, but his day also ended prematurely. "Sebastien got on the brakes a little early entering pit lane and I had to juke to the right to avoid running into him" commented PT, "but the team did a great pit stop and we got the lead. I was just cruising along saving fuel when he tried a dive-bomb pass at Turn 5. I gave him all the room I could but he just kept coming and rammed right into me. I don't know what he was thinking. There was absolutely nowhere for me to go."
"Sebastien is a good guy and somebody I really like racing with, and the McDonald's team is one of the best in the business, but I got ambushed by the Hamburglar today. Then he puts out a press release whining that it was all my fault. I think the guy's had a few too many Happy Meals."
PT AND MD QUALIFY ON 2ND AND 3RD ROWS FOR MONTERREY RACE
MONTERREY, Mexico – May 21, 2005 – PT and Mario secured 3rd and 6th starting positions, respectively, for Sunday's 76-lap Tecate/Telmex Grand Prix of Monterrey Presented by Roshfrans.
Paul was a threat for Pole Position but encountered some challenges during the final session. "We had a good car for sure, maybe just a little lack of side bite in mid-corner, but it seems like every time I was putting a good lap together I'd come up on traffic right at the end of the lap. But the car is strong and we're in a good position for the start tomorrow right behind (pole winner) Sebastien (Bourdais). The heat is going to be a factor with drivers and tires so it's going to be a challenge, but I'm looking forward to it."
Teammate Mario Dominguez thrilled the throngs of Mexican fans when he posted 2nd-quickest time in the brief practice session just prior to Qualifying, but an unusual problem arose during the battle for the Pole.
"The steering was cocked to one side when I went out for my last laps in Final Qualifying, which made it very difficult over the bumps and particularly over the curbs, so I just wasn't able to get everything out of the car. It's frustrating because we showed in the practice session that we were going to be right there. It's sad to disappoint the fans because we had a good chance to be up front, but we'll be fast tomorrow and if things go well we should be competing for win."
PT AND MARIO DOMINGUEZ ENDURE PROBLEMATIC QUALIFYING SESSION IN MONTERREY
MONTERREY, Mexico – May 20, 2005 – Teammates Paul and Mario had an eventful first round of Qualifying at Fundidora Park in downtown Monterrey, Mexico today.
PT only completed a handful of laps after damaging the car over chicane curbing while Dominguez was penalized for causing a Red Flag stoppage, costing him his fastest lap in the session. Tracy ended up 19th in the session, while Dominguez was able to return to the track and post 5th quickest time.
"We went out early hoping to get some clear track" said Dominguez. "We planned on running seven laps, but we had a radio problem and I didn't hear the team calling me in so I ran too many laps and ran out of fuel. That caused a Red Flag to stop the session, so I got a penalty that cost me my fastest lap in the session. As a result I fell down to 5th place but the car was good so I think we'll be in good shape for Final Qualifying tomorrow."
"On one of my first hot laps I turned into the chicane and the rear end just jumped out" commented Paul. "I saved it but it made me go over the curbing and I got launched in the air. We did some damage to the car as a result and that pretty much ended our afternoon. It's too bad because the car was pretty good, good enough to be quickest in the practice session just before Qualifying, but we've been fighting a bit of oversteer all day and it happened again on that lap. It's too bad for the Forsythe team because we could have threatened for the Pole, but we know we're on the pace and we get another chance tomorrow."