Cleveland
PT Rocks in Cleveland and Takes Points Lead!
Photo: Nick Challis CLEVELAND, Ohio – June 26, 2005 – Paul started the race in front and ended it in front as well. After the race saw many on course incidents, yellow flags and differing pit
strategies PT and Forsythe Racing emerged victorious! Paul claimed the Championship points lead in the Champ Car World Series with his 30th career victory today at the Burke Lakefront Airport road course in downtown Cleveland. PT would lead 46 of 91 laps and take the lead in the chase for the Vanderbilt Cup, 128 to 127 over 2004 defending Champion Sebastien Bourdais.
Paul: "That was a crazy race. There was so much going on and so many people out of sequence on their pit stops that it was hard to stay on top of the situation, but the team did a great job and we timed our pit stops really well. It was too bad Cristiano (da Matta) tangled with somebody but we were in a strong position anyway and he was going to have to stop before me, so I thought we had a good chance to win even if he hadn't crashed. The Bridgestone tires were very strong all day despite the heat and we probably didn't even need to change them at the last stop but decided to be just a bit conservative. It feels great to win and take the points lead here in Cleveland with (new marketing partners) Mountain Grand Lodge and Avalanche Bay joining our team this weekend. We're on a pretty good roll heading into my hometown race in Toronto on July 10th."
PT Grabs Cleveland Pole!
Photo: Nick Challis CLEVELAND, Ohio – June 25, 2005 – Paul grabbed the Pole Position today despite losing his fastest lap for balking Sebastian Bourdais while coming back on course after an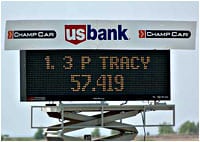 early misstep. PT came back out during the second half of the session and ran two laps faster than any other driver to put him on Pole for tomorrows race. Paul's second fastest lap (the one that counted) came on lap 15 with a time of 57.419 @ 132.040 MPH. This is PT's 24th career Champ Car Pole and 3rd Pole here at Burke Lakefront Airport in Cleveland, Ohio.
Paul: "We decided to try and get some open space on track by going out early in the session. We had a good warmup session on old tires so we knew the car was going to be fast, but unfortunately I started the session off by spinning at the last corner as I launched a lap, breaking a wing and flat-spotting the tires. Then while I was regrouping I got in Sebastien's way at Turn 1. I didn't see him coming but balked him and that means a penalty that costs me my quick time in the session."
"So the mind set was for two fast laps since I was going to lose one. We decided to go out early again and had a bit of open track, so I was able to post two laps quick enough for pole. I don't think anybody has ever gotten a fast lap penalty and still grabbed the Pole before. The Bridgestone tires were really impressive since my normal style is to go fast for a lap and then cool them off, but I had to crank out some consecutive laps and the red alternate tires really performed great. We were a bit lucky that a Red Flag ended the session early, but we won't ever know if anybody could have gone faster. It should be a good race tomorrow."
PT Finishes P2 in Cleveland Q1
Photo: Dave Geall CLEVELAND, Ohio – June 24, 2005 – Paul posted the second quickest time in today's first round of Qualifying at the Grand Prix of Cleveland Presented by US Bank, despite
encountering challenges near the very end of the 35-minute session.
Paul: "The car was quick on the Reds (soft-alternate Bridgestone tires) and we should have had the pole. On my next to last lap I had just cooled down my tires and brakes and had clear track so I was laying down a quick one, but I came into the back chicane and found one of the corner-marking tires had been kicked out onto the track. I clipped it with my front wing and broke it, so that was that. (see photo with corner tire still airborne) A bit unfortunate, but we'll be back tomorrow with a strong car and see what we can do."