Toronto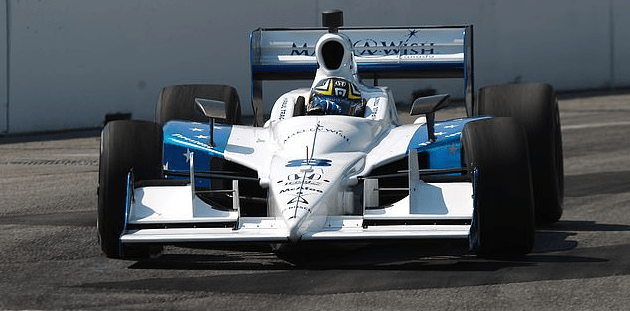 PTs Day Ends Early in Toronto Race Filled with Drama
Photo: Nick Challis TORONTO, Canada – July 10, 2005 – Paul started todays race in the second spot and by the first round of pit stops he was still in second right behind pole sitter Bourdais as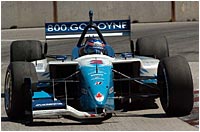 Bourdais entered the pits. After a quicker stop by the Forsythe Team, both cars darted forward to re-enter the track with PT just to the right of Bourdais. While apparently trying to stay below the yellow blend line on exit Bourdais drove to the right and his right rear tire chopped PTs front left wing off. Bourdais limped back to the pits with a puncture, but Paul continued on with only the right front wing left on his car. He still ran consistently fast lap times that kept him well out in front of the field. Just as round two of pit stops was to begin, PT was a couple corners away from pit in when a yellow came out, closing the pits. The team thinking there was enough fuel on-board stayed out to avoid a penalty for pitting when the pits are closed. A few yards later Paul came to a stand still, out of fuel and done for the day. Neil Micklewright later said a error in fuel readings was to blame.
Paul: "That was a tough day. The car was good and we decided to short-fill on the first stop to see if we could get by Sebastien. The plan looked like it was going to work but Sebastien came past me after we crossed the pit exit line and chopped across my nose, breaking my left front wing off and giving himself a flat."
"I was pretty worried but the handling was manageable and I was able to post some good times without burning up the front tires. It was pretty amazing how well the Bridgestone tires held up while getting that much abuse. We decided that it wasn't going to be worthwhile to take the time to change the nose so we were just going to pit for fuel and tires on the final stop and see if we could hold them off. Unfortunately I ran out of fuel just as I was about to pit. A yellow flag came out and the pits closed just as I was coming in, so I stayed on track hoping I could nurse it around one more lap but it died about two seconds after I made my choice. Just a bad day for the team."
PT Third Fastest in Toronto Q2
Photo: Nick Challis TORONTO, Canada – July 09, 2005 – Paul ran third fastest today in the final round of qualifying running a fast lap of 58.594 @ 107.827 MPH. Sebastian Bourdais ran fastest today and grabbed the Pole. Late in the session PT was on a hot lap and two tenths of a second on Bourdais pole time two thirds of the way through his lap. Unfortunately before he could complete what could have been a P1 lap Paul was balked by Cristiano da Matta. PT will start from the outside slot on the front row in tomorrows Molson Indy.
Paul: "That was really tough to take. I was up two tenths (of a second) on Sebastien with two corners to go when Cristiano balked me. I'm really disappointed with him. He looked like he decided to slow down to launch a lap with me right behind him and I had to back out of it. I slowed down to get some room and get ready to try again but then the Red Flag came out (for an accident involving Alex Sperafico) and that was it. But the car is better than yesterday and we'll be strong in the race. We just have to get through the first corner and see how things play out."
PT Grab Provisional Pole in Toronto!
Photo: Dave Geall TORONTO, Canada – July 08, 2005 – Paul grabbed the Provisional Pole today in Toronto running a fast lap of 58.887 @ 107.290 MPH.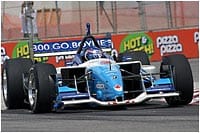 Paul: "It was a good session. Obviously, it was very busy at the end. We went out in the middle of the session. The track was quite busy, but we found a gap in the track where I could run a couple laps, you know, get a good run going. But the last set of tires, everybody was just accordion-ing, backing up and going, backing up and going. It was hard. I didn't get a lap the second run on the tires, so that was a little bit frustrating.
But we had enough gap to Sebastien. I guess he brushed the wall and really couldn't challenge. We were fortunate that we didn't have to try to do a second run because I was never able to get the time because of traffic."