San Jose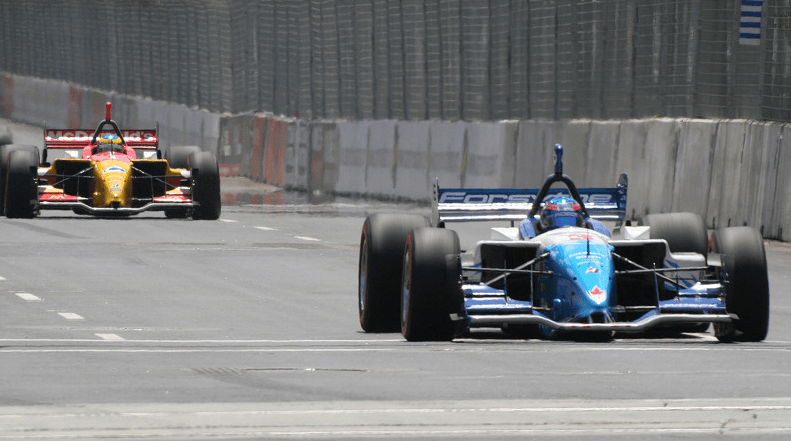 PT Finishes Second in San Jose
Photo: Nick Challis Paul's Post Race Interview with Champ Car's Eric Mauk
Eric Mauk: Paul, interesting day out there. Tell us a little about how it went.
Paul: Well, I mean, the start was a little bit strung out. My goal was to try to get by Oriol at the start. It was pretty much a single-file start. Really just had to sit in behind Oriol and try to save more
fuel than him. Sebastien got away a little bit from Oriol. He was a little bit quicker than he was.
Obviously, the first yellow came, which was actually surprising. It took quite a long time before we went green. Came in and my guys did a great stop, got me out ahead of Oriol. From there, we just kind of went to work on Sebastien, keeping the pressure on, trying to save more fuel than him. But we just kind of ran nose-to-tail there a long time and pulled away from Oriol.
Second round of pit stops came. Our stops were identical. We came in and out the same. Really from there out, it was just — there was really no way to get around Sebastien on the track. He made a very, very small mistake at the hairpin and locked up. There was really no way to get by. Really I just had to hope for a mistake or come home in second.
Eric Mauk: Slight wall brush about halfway through in turn four. Did that cause you any problems at all?
Paul: No. I just touched the wall a little bit. I was pretty lucky there. That's a place where it's very easy to hit the wall. It was very slippery off line. I just missed the entrance a little bit, turned in a little bit too early. I had to like jog out to miss hitting the inside wall. When I did that, I got off the line. The car just slid and touched the wall. It hit pretty flat on the wheel. Didn't catch it at an angle. Didn't tear at the wheel.
Eric Mauk: Probably one of the trickiest tracks we run on from a grip standpoint. Tell us how the Bridgestones held up.
Paul: They held up great. Really no problem. The runs were long and consistent. The tire wear was good. But, you know, it's a tricky track for sure. There's no room for error. It's narrow. Obviously, it's very slippery. You really had to concentrate on just being smooth. It really wasn't about how fast you could go; it was about just keeping it in between the wall.
Eric Mauk: Your impressions of the inaugural event here?
Paul: I think it was great. I think it was a great success for the city. The buzz in the city was great. Having it right here in the downtown is fantastic. I mean, most of the street courses that we've been to, whether it be Vancouver or Toronto, they were centered kind of around a park or roads that aren't used that often, not really in the downtown sector, in the business sector, in the entertainment district so to speak.
The crowds that were here after everything was done, all you had to do was walk right outside the track, you could have something to eat. That's where everybody was staying basically, right on the premises. It was a great event, a great festival event. Obviously the track needs to make improvements. But the city is behind the event 110%. Those improvements will come.
PT Qualifies P3 in San Jose
Photo: Robert Quinn But for all the laps turned today and the increased time that competitors had on track, the battle for the top three was decided in a span of just two minutes. PT's fate however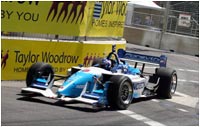 had been decided earlier in the session as the 2003 series champion spun and brought out a red flag. That misstep would end up costing Paul his fastest lap of the day as a penalty, meaning that he would have to turn the two fastest laps of the day in order to score the pole.
He started the flurry with one of those two quick laps, but when he lost the time to settle his penalty account, he was left with a clocking of 54.570 seconds (95.525 mph). Bourdais immediately upped the ante by eclipsing that mark, only to see Servia raise the bar further one lap later with his 54.305. But the time had barely registered on Servia's steering wheel readout when Bourdais stopped the clocks at his eventual pole-winning time of 54.243.
PT settled for third and will start alongside local hero A.J. Allmendinger (#10 CDW Ford-Cosworth/Lola/Bridgestone), who was on pole briefly before the Tracy-Servia-Bourdais flurry started, but held on for his fourth top-five starting spot of the season after carding a time of 54.604 seconds (95.466 mph).
Paul: "Today is a lot easier than yesterday. Obviously, yesterday was, you know, much narrower and tighter. You know, there was only a handful of cars able to do it flat yesterday, which really made a big difference in lap time. But if anything had gone wrong or you made a mistake on the entry, the consequences were huge. They're going to work on it again tonight and try to make it even better for tomorrow."
PT Finishes in Top Five in Both Practice Sessions in San Jose
Photo: Nick Challis SAN JOSE, California (July 29, 2005) – Safety concerns and unexpected delays in constructing the 1.448-mile street course in downtown San Jose resulted in the cancellation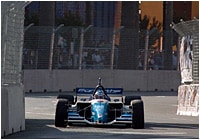 of the morning's action, but the Champ Cars were able to get in a pair of 45-minute practice sessions on a cloudless Bay Area day as 40,434 fans came out to witness the Champ Car's debut in the Silicon Valley. In the first practice session Paul ran second fastest overall with a fast lap of 53.894 @ 96.723 MPH. Practice session two saw Paul fifth fastest overall with a fast lap of 52.950 @ 98.448 MPH.
PT on Inaugural San Jose Champ Car Race
Paul: "From everything I hear the San Jose event is going to be a great event. The track looks interesting and we seem to have a really good street course package this year so I'm excited about the race. I understand ticket and chalet sales are strong, and that doesn't surprise me since Bob Singleton is running the event. He's made the Toronto event into one of the premier street festivals in all of racing so I'm sure the Bay Area fans are in for a real treat."