PT Finds Joy on a Tri-Oval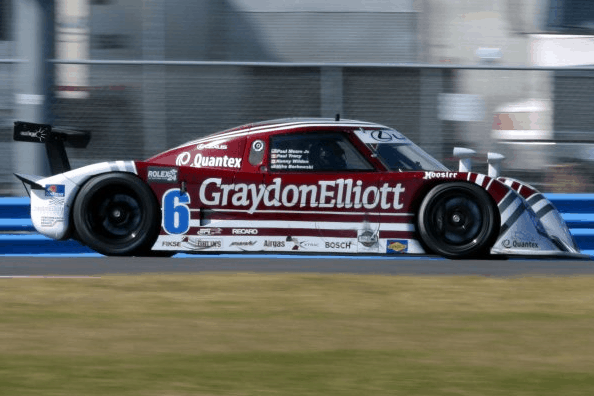 Daytona Beach, Fla. (December 16, 2005) – Paul has achieved tremendous success at every level of his racing career. On Friday, the 2003 ChampCar Series champion descended on Daytona International Speedway hoping that his past racing success would translate into success at his first stock car test at the 2.5-mile tri-oval.
Tracy has competed at Daytona in the Rolex 24 Hour Race, but he's never driven a stock car at the historic track until he arrived at the facility at around 10:45 am for Friday's ARCA test. He tested a Chevrolet belonging to Andy Hillenburg, a personal friend who has been assisting Paul with his transition into stock car racing.
"I will be doing the 24 hours again and trying to get some experience to make the transition into stock cars. Andy Hillenburg has been really helpful with trying to help me out with making the transition," said Paul as he put on his driver suit Friday.
Paul's trip to Daytona started out in frustrating fashion when his flight from Las Vegas to Atlanta was delayed Thursday night. Then when he landed in Atlanta he found out that his connecting flight to Daytona had departed without him. Consequently, he was forced to spend the night in Atlanta and did not arrive into Daytona until 10:35 AM on Friday, only adding to his frustration. His frustration quickly departed as he posted the 5th fastest lap of the day, wheeling the No. 11B Chevrolet around the superspeedway in 49.443 seconds, at a speed of 182.028 mph.
At the end of the morning session on Friday, Paul sat 8th on the charts and felt more comfortable with the track after turning several laps.
"It was pretty different," said Paul after the morning session. "Obviously, I've never driven here other than the Grand-Am car. I think we had a good run. I did an eight or nine lap run and I think we ended up seventh or eighth quick. I'm just trying to figure out where I'm going. I was flat footed the whole time trying different lines and I ran around on different parts of the track."
Paul is close to securing a deal to run a limited number of NASCAR Busch Series events with Biagi Bros. Racing as a teammate to Mark Green and the No. 4 GEICO Dodge. The events will coordinate with his ChampCar Schedule and his commitment to Forsythe Racing.
"We're getting the wheels turning now. We've been fortunate to secure funding to run a few races for Fred Biagi," said Paul. "In the next couple of weeks we will be making an announcement as to our short term plans for 2006. As far as the long term is concerned, I am looking to gain experience and ultimately look at opportunities to race in the NEXTEL Cup Series."
"Today, I've had the opportunity to talk with Ray Evernham, Eddie D'Hondt at RYR (Robert Yates Racing), and Jim France, and everyone is really supportive and I am looking forward to further establishing those relationships and having fun out here."
In 2006, Paul will return to the ChampCar Series, but hopes to be running full-time in NASCAR in 2007.
"My game plan was to make the transition in '06, but it really didn't come together," said Paul. "I've made another year commitment to Forsythe Racing. Jerry Forsythe has been gracious enough to let me do whatever I want to do and to try whatever I want to try. My timetable is to be in NASCAR full-time in 2007."