Champ Car to NASCAR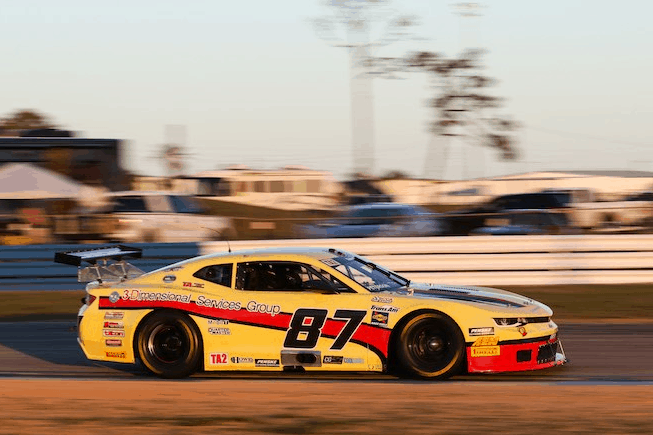 Champ Car to NASCAR: Paul Inks 5-Race Busch Series Deal
Daytona Beach, Fla. (January 20, 2006) – After over a year of speculation as to whether or not PT would make his way into NASCAR, it is official. He has inked a 5-race deal that will see him behind the wheel of a stock car in the NASCAR Busch Series. Frank Cicci Racing with Jim Kelly will be fielding the #34 Chevrolet Monte Carlo for Tracy's 5-race NASCAR debut.
Paul will make his debut at Daytona and then follow up with appearances in Mexico City on March 5th, Las Vegas on March 11th, Indianapolis on August 5th, and Fontana on September 2nd. Sport Clips (All*Star Haircuts for Men & Boys) will be the primary sponsor at Daytona International Speedway, Indianapolis Raceway Park, and California Speedway, with American Crew (Quality Grooming Products for Men) taking over as a co-primary sponsor with Sport Clips at Las Vegas Motor Speedway. American Crew will appear as an associate sponsor on all of PT's races. Frank Cicci's #34 car does not have a sponsor for Mexico City, but with former Mexico City Champ Car winner Paul Tracy in the car, it should make the sponsorship search considerably easier.
Paul: "I'm very excited about my first opportunity to race in NASCAR, especially in the biggest race of the year at Daytona. Then moving on to race at Las Vegas, which is my former home, and then on to Mexico City, where I am a former winner in the Champ Car Series, I am thankful to Sport Clips and American Crew for believing in me and making this work. I also want to thank Frank Cicci and Jim Kelly for putting me in quality equipment and supporting me. I would especially like to thank Doug Barnette for finding the sponsors and bringing the parties together and making this happen."
Sport Clips CEO and Founder, Gordon Logan, was equally excited about the relationship: "We are extremely pleased and excited about partnering with Paul Tracy for his NASCAR debut in the Busch Series. Paul brings an excitement and passion to the sport that will greatly expand the fan base for the Busch Series, resulting in an increased awareness of Sport Clips in all of our markets. Our sponsorship with Paul gives us great geographical coverage with races in Daytona, Las Vegas, Indianapolis and Southern California. Sport Clips is now in 28 states, with an almost-perfect overlay with the NASCAR Busch Series races." He continued, "We are particularly pleased that American Crew is coming on board with us on Paul's car. We have a great relationship with American Crew, a leading edge product line specifically formulated for men and boys – our clients!"
American Crew Vice-President of Sales, John Mulgrew, stated, "American Crew is extremely excited to have the opportunity to work with an American institution like NASCAR, combined with the ability to have a respected and recognized driver like Paul Tracy at the helm of our car. This takes the recognition of our brand and the recognition that Paul creates for us to an exciting new level."
Sport Clips, Inc. is a Georgetown, TX-based enterprise that currently has 315 stores in 28 states. Targeting men and boys, Sport Clips provides high-quality haircuts in a fun sports environment, complete with TVs at every Stylist's station tuned to sports. Every Sport Clips has "guy smart" Stylists who focus on providing the highest level of service to every client. Sport Clips is the Official Haircutter of the Veterans of Foreign Wars (VFW), whose logo will be prominently featured on Tracy's car. For a location near you or for franchise information, please visit: www.SportClips.com.
American Crew continues to lead the way in the men's grooming business. With a passionate commitment to men's grooming, their purpose is to bring men into salons, provide them with a great new experience and show them new ways of incorporating style into their everyday lives. American Crew recognizes the growing number of men that are concerned with their appearance and who want to look their very best. This trend of image-conscious men spans all ages and backgrounds. American Crew has all of their grooming interests in mind. For more information on American Crew, please visit www.AmericanCrew.com.