Back on Track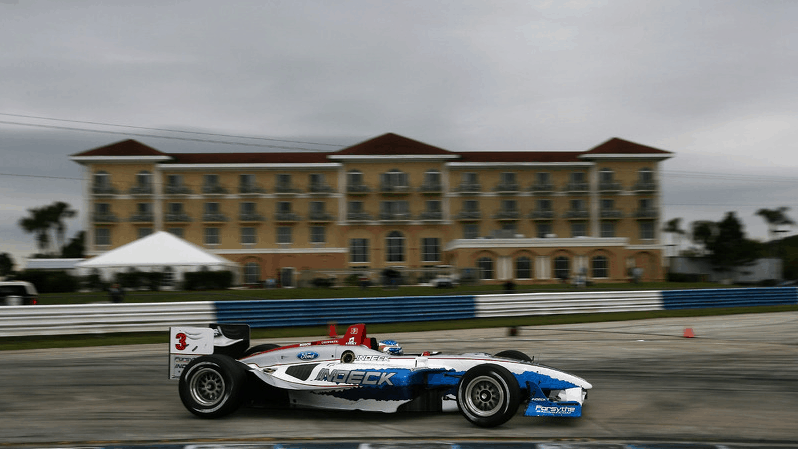 Back on Track for 2006 – Successful Champ Car Test at Sebring for PT and Mario Dominguez
SEBRING, Florida – Friday, February 24, 2006 – Throughout the winter of 2005/2006, the mechanics and engineers at Forsythe Championship Racing's headquarters in Indianapolis analyzed the 2005 Champ Car season and set about massaging components and functions with a goal of recapturing the oldest prize in North American motorsport; the Vanderbilt Cup. This week at historic Sebring International Raceway in central Florida, the crew, cars and drivers finally hit the track and officially began their assault on the 2006 championship as Bridgestone Presents the Champ Car World Series Powered by Ford.
Paul: "Overall the team had a very good test, it was great to get back in a Champ Car after driving sports cars and stock cars this winter. I got up to speed right away. We had a mechanical issue around mid-morning and decided to shut it down after 50 laps so that it doesn't count against our full test day allotment. It may have been a bit of a blessing since conditions weren't very good with lots of humidity and dampness that made the track very greasy. These test days are very valuable since we only get so many, and you don't want to chance using up a day without much to show for it. It was the right call and now we've got a day in the bank."
Paul, age 37, is Champ Car's active leader in victories with 30 career wins – 7th all time and one away from tying Al Unser Jr. for 6th, and Career Pole Positions with 25. He's also the active leader in Laps Led with 4,184 – 6th all time, joining Mario Andretti, A.J. Foyt, Al Unser, Bobby Unser and Michael Andretti as the only drivers to lead over 4,000 laps. The Canadian veteran begins his 16th season in Champ Car this year and will start his 237th Champ Car event at the Toyota Grand Prix of Long Beach in April.
Mario Dominguez of Mexico, recently resigned by Forsythe for the 2006 season, was particularly excited to join Tracy at the test since he signed with the team at the last minute in 2005, literally sitting in the car for the first time on Thursday afternoon at Long Beach. Despite the lack of testing, Dominguez was 4th fastest in his very first practice session at the 2005 season's first event, amazed everyone by qualifying in 3rd position for the race, and finished a strong 5th.
"The test went well", commented Dominguez (#7 INDECK Lola/Ford-Cosworth/Bridgestone). "I was very happy to be back behind the wheel of a Champ Car since it had been a long time since I had driven. It didn't take long to get rid of the cobwebs. We spent most of the day trying out new development parts that the team had been hard at work on over the winter. When you are running a lot of experiments you have to expect some small problems, but overall it was very good. And compared to last year when I didn't get any preseason testing at all with the team, it's a big difference. We'll be really well prepared and can develop the car specifically for Long Beach so it's going to be a big advantage. I'll have more of a chance to establish the relationship with my engineers and the team, so I expect that we'll be much stronger and consistent for the start of the season."
Dominguez, 30, begins his 5th season in Champ Car and has recorded 2 wins and 9 podium finishes in his 61 starts.
Team Manager Phil LePan: "We didn't do as much running as we wanted, and track conditions weren't the best, but overall it was a good test and we were able to work through a fair bit of stuff. Paul was limited to a 50-mile test so we weren't able to get much accomplished with his car, but with Mario we were able to check off a big list of items. We worked with some new car-to-pit radio technology, tried out some new telemetry sensors, a few aero pieces, some differential combinations and front suspension. It was productive and we learned a lot about things we've been working on over the winter so we're ready to step things up at the next tests in Houston and Fontana."
Team Forsythe moves on to Houston Motorsport Ranch's road course for a two day private test on March 7-8, then to California Speedway in Fontana for a Champ Car open test on March 29-30th.