Portland Test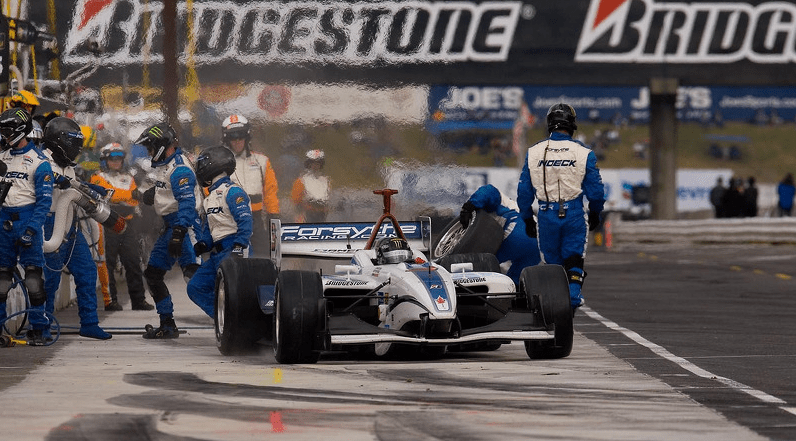 TEAM FORSYTHE TESTS AT PORTLAND INTERNATIONAL RACEWAY
Portland, Oregon – April 17, 2006 – Last week a group of Champ Car team transporters left the downtown streets of Long Beach, heading north up I-5 for a two-day open test at Portland International Raceway. With majestic Mt. Hood looming nearby, the teams took the geographical opportunity to work on setups and strategies for the Portland race, coming up in June for the fifth stop on the 15-racing calendar as Bridgestone Presents the Champ Car World Series Powered by Ford.
Forsythe teammates Paul Tracy and Mario Dominguez both ran a substantial number of laps over the two days, although Dominguez' second day was cut short early in the afternoon by a clutch issue just as the track was at its quickest while Tracy elected to stop running later in the day as cold and windy weather moved in.
Paul Tracy – #3
INDECK Ford-Cosworth/Bridgestone/Lola
Fourth fastest time in Portland Test – 57.663s/122.616mph/197.331kph
Paul: "For some reason the track here in Portland has always been difficult for me. I've never had many good finishes here in the race and always struggled to find a consistent setup, but the last two days were very successful. On the second day we made a little discovery in the setup and that small change made a big difference. We stopped a bit early because the weather was going downhill and we expected the track to deteriorate, but overall a really good two days and I'm pretty optimistic that when we come back in June we're going to be very competitive."
Mario Dominguez – #7
INDECK Ford-Cosworth/Bridgestone/Lola
Sixth fastest time in Portland Test – 57.731s/122.471mph/197.097kph
Mario: "Overall it was a good test; we kept getting faster and improving the car. We managed to get the car very consistent over long runs so I think that we'll be in very good shape for the race. Unfortunately on the second day we had a mechanical issue that ended our day a little early but overall I'm satisfied. Portland is a great place to visit and I always love to come here, so I'm looking forward to the race in June."
Phil LePan – Team Manager: "It was a good test. We managed to do a lot of setup work with both cars and found a few new things that should be very beneficial for the race. Although this track changes a lot depending on the weather and the conditions, it's always good to get to test at a track were we actually race. A big plus from this test was the fact that Michael Cannon (new team engineer) and the rest of the team continued improving their relationship. Mike is getting a good feel for the tools he has at his disposal and that's going to pay off as the season progresses."
The team now returns to its base in Indianapolis and next travels to the fourth-largest market in the United States as the turbocharged roar of the Champ Car World Series returns to Houston, Texas for a challenging temporary circuit on the grounds of Reliant Stadium and the Astrodome, May 11-13. With the race scheduled for Saturday night under the lights and with a huge turnout of road-racing fanatics expected, the three-day festival of speed will showcase the spectacle of glowing brakes, flaming exhausts and the intense competition of Champ Car.