Houston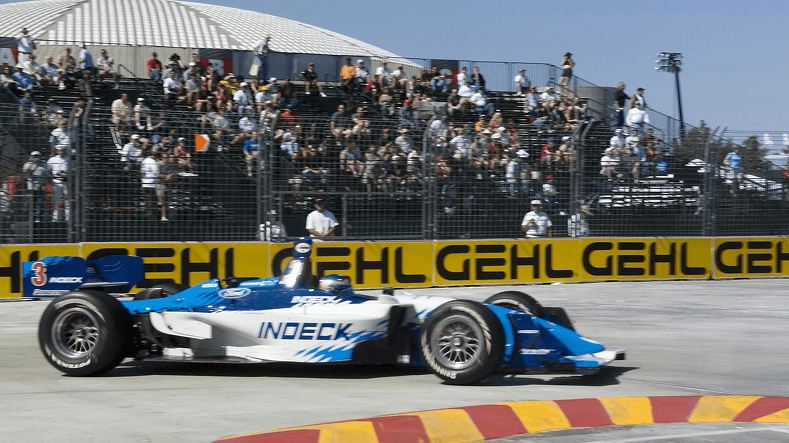 PT SECOND IN PROVISIONAL QUALIFYING FOR THE GRAND PRIX OF HOUSTON
HOUSTON, Texas – May 11, 2006 – Team Forsythe duo PT and Mario Dominguez got a full Texan experience today when it seemed more like they were riding bucking broncos than driving Champ Cars at the new temporary and extremely bumpy circuit carved out of the parking lots around the Reliant Stadium and the Astrodome. In between the traffic and numerous red flags, Tracy and Dominguez managed to put in fast laps and finish in second and fifth position respectively.
Paul:"That was a wild ride today! The layout of this track is actually very interesting, there is a good combination of corners and if it wasn't for the bumps it would be fantastic. We kind of struggled with the car all day. In qualifying we made some changes that were positive and managed to put a good lap in. The lighting is surprisingly effective – not that it makes any difference because you can't see anything during the day anyway because of the bumps shaking your vision! Tomorrow we'll keep working on the setup and try to go out and fight for the Pole Position."
PT COMMITS TO CHAMP CAR AND FORSYTHE RACING
HOUSTON, Texas – May 11, 2006 – Paul Tracy, 2003 Champ Car World Series Champion and the top active driver in wins, poles and laps led, today confirmed his long-term commitment to Champ Car and Forsythe Championship Racing with the signing of a 5 year agreement that will keep the popular Canadian veteran and his no-holds-barred approach to open-wheel racing in the series until 2011. Tracy's renewed allegiance to Champ Car is a tribute to the strong momentum of the Bridgestone Presents the Champ Car World Series Powered by Ford as the 2005 Championship saw average event attendance exceed 150,000 fans for the first time in its long history.
Paul: "I'm looking forward to racing Champ Cars for several more years. This was actually a pretty easy decision for me. I've been checking out some other types of race series this year and that's been a great learning experience and a lot of fun, but at the end of the day there's just nothing like Champ Car. The depth of talent, the machinery, the challenge of driving all kinds of circuits – plus the direction and growth of the series has everybody feeling very energized with where it's going over the next few years. There are tremendous historic tracks like Milwaukee, Road America, Cleveland, plus some great new events like Houston this week, San Jose, Mexico City, Edmonton and some others I hear are in the pipeline. And the new 2007 car looks like it's going to be a real step up so I felt like I needed to stick around and be a part of this whole scene.
Champ Car is where I made my name and my career, and I owe a lot to the fans that stuck with us through thick and thin. Now we're on the rebound and all that loyalty is paying off, so my hat's off to them. The fans are what keeps this series strong and what really prompted my decision to stay. There are no fans like Champ Car fans and I'm very happy that I'll get to keep racing for them."
Gerry Forsythe
Owner, Forsythe Championship Racing
"Paul has always been my kind of driver. He doesn't take anything off anybody, and there's nobody I'd rather have in the car when it comes down to the last lap. He won the Championship for us in 2003, but I don't think he's ever driven better than he did last season. He's at the top of his game and can win any race, any time. I don't see that changing anytime soon. We'll continue to give him the tools he needs and I know he's got a lot of wins left in him. I'm proud that he's decided Champ Car is where he wants to be, and I think history will show the wisdom of his choice."
Neil Micklewright
Vice President of Operations, Forsythe Championship Racing
"Obviously we're all very excited that Paul has decided to extend his Champ Car career. He knows this is where he belongs and what it means to win a Champ Car race. We're going to do everything in our power to win the Vanderbilt Cup again this year and in future years, and now we can all settle in and focus on that goal. Paul is an icon in this sport and just has so much experience. He brings his "A-game" every week and let's face it, he's just bloody quick. He's an integral part of this team and now it's time to win more races!"
Kevin Kalkhoven
Co-Owner, Champ Car World Series
"I'm delighted that Paul will be with us for the next few years as his loyalty during the difficult period leading to the new ownership of Champ Car was one of the factors that provided us such confidence. My congratulations go out to both Paul and Jerry."
PT is now in his 16th season of Champ Car competition with 237 starts. He's the active leader in wins with 30 career victories (7th all-time, needs one more to tie Al Unser Jr. for sixth) and also pole positions (25) and laps led (4,184 – joins Mario Andretti, A.J. Foyt, Al Unser, Bobby Unser and Michael Andretti as the only Champ Car drivers in history with over 4,000 laps led). Tracy finished fourth in the 2005 standings with two wins, three poles and seven podium finishes, and also led more laps than any other driver in 2005 with 512.