Daytona Busch Race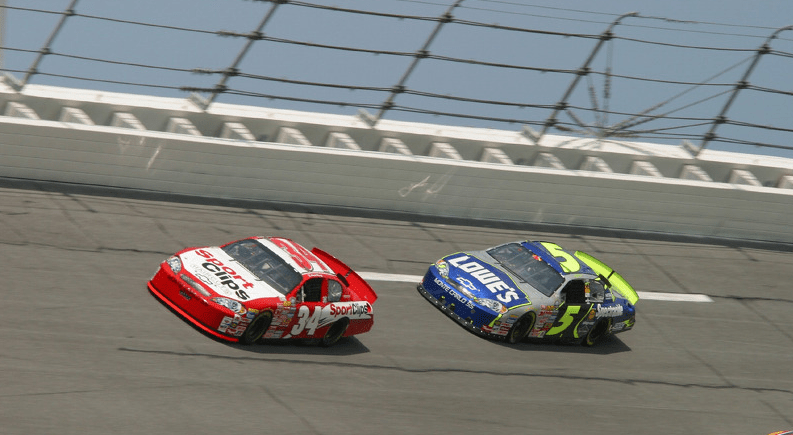 PT FINISHES P28 IN DAYTONA BUSCH RACE
DAYTONA BEACH, Fla. (June 30, 2006) It was déjà vu for PT at Daytona on Friday night. He was running well, quickly moving from his 35th starting spot into the Top 20. He was even noted on the telecast as one of the 'Top 5 Movers of the Race'.
Then it came, just as it did in February. Shortly after the mid-way point of the race, coming out of Turn 4, Paul was on the inside of a three-wide formation that included Kevin Lepage on the outside and Reed Sorenson in the middle. Lepage and Sorenson traded paint, forcing the #41 Dodge of Sorenson into Paul's #34 Sport Clips/American Crew Chevrolet. His Sport Clips/American Crew Chevrolet spun and received right side damage that sent him down pit road for significant repairs.
Despite the damage and extensive time spent on pit road, PT finished the race just two laps down in the 28th position.
Paul: "I enjoyed going back to Daytona and running a stock car again, unfortunately, we got caught up in someone else's mess. It's unfortunate because we had a good car and I was moving up in the field, just as I did here in February. I have enjoyed running NASCAR and I have accomplished what I set out to do; I've finished every race I've been in except Mexico City and gained the respect of the other drivers. Most importantly, we have been able to get Sport Clips and American Crew great exposure and get them fired up for next year."
PT's next NASCAR Busch Series appearance in the #34 Sport Clips/American Crew Chevrolet will come on September 2nd in Fontana, CA.
This weekend will find Paul in his hometown of Toronto, Ontario, Canada, for the running of Champ Car's Molson Grand Prix of Toronto on Sunday, July 9th, at 12:30 pm EDT. Television coverage is on CBS beginning at 12:00 pm EDT.
PT, who recently announced a five-year contract extension with Forsythe Championship Racing in the Champ Car World Series, has stated that he will continue to run 10-15 NASCAR Busch Series and Nextel Cup races a year that do not conflict with his Champ Car schedule.
PT RETURNS TO DAYTONA FOR DOUBLE-DUTY
DAYTONA BEACH, Fla. (June 28, 2006) PT will be returning to Daytona International Speedway this week for the second time this season, as he will once again be driving in the Grand Am race on Thursday night and then piloting the #34 Sport Clips/American Crew Chevrolet in the NASCAR Busch Series race on Friday night.
Paul: "It's great to have the opportunity to go back to Daytona and be part of one of the biggest races of the year. In February, I had great runs in both the Grand Am car and in the Sport Clips/American Crew Busch Series car and I am looking forward to getting back there and having a great weekend. Daytona is a historic track and I am proud to be able to race there."
Sport Clips CEO and Founder, Gordon Logan, is excited about his relationship with Paul Tracy.
"We are extremely pleased with our relationship with Paul Tracy for his debut season in the NASCAR Busch Series. Paul brings an excitement and passion to the sport that has greatly expanded the fan base for the Busch Series, resulting in an increased awareness of Sport Clips in all of our markets." He continued, "We are particularly pleased that American Crew is on board with us on Paul's car. We have a great relationship with American Crew, a leading edge product line specifically formulated for men and boys – our clients!"
Initially, Paul Tracy was scheduled to drive the #34 Sport Clips/American Crew Chevrolet at Indianapolis Raceway Park on August 5th, however since Sport Clips sponsored the Indianapolis 500 car of Max Papis in May, Sport Clips decided to move their Indianapolis sponsorship to Daytona.