Edmonton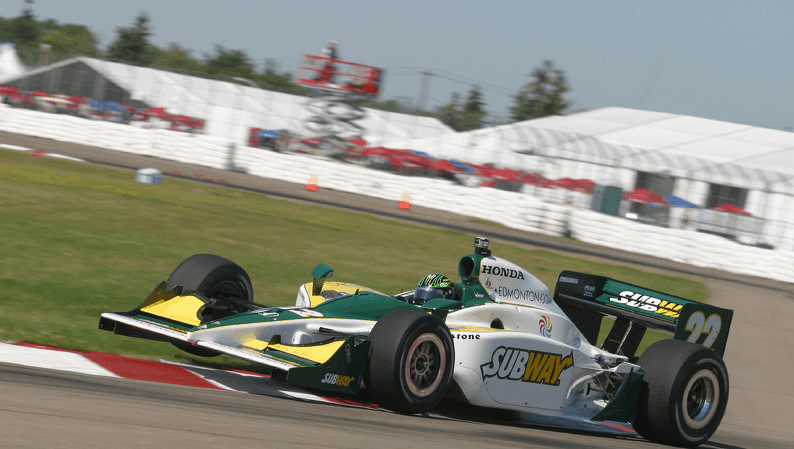 PT FINISHES P5 IN EDMONTON
EDMONTON, Can. (July 23, 2006) Paul started today's race in P2 and maintained that position up until lap 36 when leader Bourdais pitted putting PT leading his first laps of the season. On lap 38 Paul made his first stop and was overtaken by Wilson by a possible short fill strategy by the RuSport team. PTs position changed little up until the second round of stops. He was once again in P4 after stops battling with Servia. The two would duel back and forth the remainder of the race and by the drop of the Checkered Flag PT found himself in fifth place. Paul ran the race in a time of 1:40:47.244 @ 99.837 MPH average.
Paul: "We had a good start, I kept up with Sebastien for a while but then had to let him go because we were having to save a lot of fuel. During the first pit stop Justin short fueled and got out ahead of us, I tried to keep up with him but we made a mistake with the tire pressures and they just took forever to come up, the car was bottoming out everywhere and it was very difficult to drive. I had a good battle with Oriol at the end. I'm disappointed because we should've been higher up the grid."
PT GOES P2 IN EDMONTON FINAL QUALIFYING
EDMONTON, Can. (July 22, 2006) Paul finished today's qualifying session in P2. He was first to go out on course in this session. Only a few minutes into the session PT spun and hit the tire wall taking off his back wing and causing a Red flag. The Forsythe crew went to work repairing the rear damage while an electronics problem with the shifting was determined to be the cause of PT's spin. The crew then went ahead and replced the ECUs on his car and download the data for their Edmonton set-up. Fortunately (for Paul) Dan Clarke spun and hit the wall hard 10 minutes into the session, causing a fairly lengthy Red flag giving Team Forsythe a little more time to make repairs. PT was back on track when the Green fell and turned the fastest lap of the session although it would not be allowed as a penalty for causing the earlier Red. It still left Paul in P2 for today's qualifying. He ran a quick lap of 58.622 @ 121.163 MPH.
Paul: "Yeah, I feel good. I feel we've been fast all weekend. I feel race pace-wise we have a really good car. My car was very, very quick this morning on old tires. I feel confident for tomorrow."
PT GOES P2 IN EDMONTON Q1
EDMONTON, Can. (July 21, 2006) Paul finished today's qualifying session in P2 with a quick lap of 1:00.067 @ 118.248 MPH.
Paul: "It was difficult. The first run went well. We went out of the pits, got a red right away, then had to come in. Did a short run, did a good lap. With six minutes to go, went back out and went basically right into traffic. You know, I couldn't really get a complete lap without catching somebody, you know, two corners from the end. Seemed like every lap I would catch Alex (Tagliani). Really probably cost me, you know, a couple, 3/10ths a lap. I know there's a lot of time in the car, we just have to get the lap. The reds seem to be a lot better for me today. I'm looking forward to tomorrow."