Paul Tracy in San Jose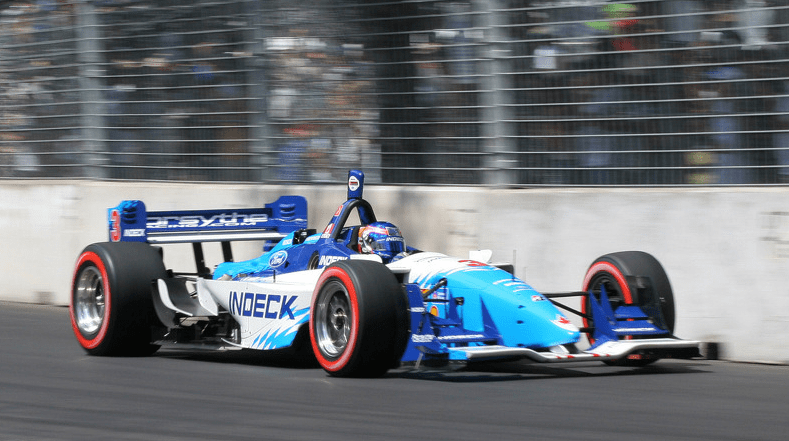 PT FINISHES AN EMOTIONALLY CHARGED P15 IN SAN JOSE
SAN JOSE, CA. (July 30, 2006) Paul finished today's race in 15th place after what proved to be one of the more heated moments in this year's Champ car season. Just past halfway in the race PT missed a turn and went into the run-off area. Upon re-entering the track he and Alex Tagliani's car made hard contact putting both drivers out of the race, but things went from bad to worse after that. An obviously heated Tag's went after PT for an "explanation" as to why Paul hit his car. He literally grabbed PT by the fire suit uttering words we will leave to your imagination. Paul said nothing and tried to continue back to his motorhome. But just when it looked like Alex was done grabbing at and screaming at PT, Tags turned back around and came after Paul again. At this time PT had had enough and sent Tags to the ground and then promptly walked away with a gash to his forehead from the confrontation. With the 2 Canadians going at it one might have wondered if they were at a car race or a hockey game? Whether or not some might think PT's re-entry onto the track was ill timed or not…Tagliani was surely the provocateur in the afterwards incident, Paul was merely defending himself.
Paul: "It's an unfortunate situation, I was having brake problems, I kept locking up in the braking zones, I just couldn't get the car to stop. I went off into the runoff, got the car turned around and I thought I had enough room to leave before Tagliani got past me but obviously I didn't and as I was coming back on to the track we touched and that was it for both of us. I came back to the pits and he kept confronting me, he kept grabbing me and I told him to stop grabbing me, and he kept grabbing me and I kept telling him to stop, then he walked away and came back and grabbed me again and that was it, I had to push him off me."
PT GOES P2 IN FINAL QUALIFYING
SAN JOSE, CA. (July 29, 2006) Paul finished today's final qualifying session in P2 behind Sebastien Bourdais who claimed his 5th Pole of the 2006 season. Paul will start tomorrows race on the outside of the front row alongside Bourdais which promises to make for an interesting Turn 1. PT ran a fast lap of 49.810 @ 104.292 MPH.
Paul: "I think today went okay. Obviously we didn't have the kind of speed that Sebastien had, the 48. We didn't really have a chance for that. But we did a 48.6 earlier on in the run, in the first run. The second run, 48.4, I think. I had some cars in front of me, some cars behind me. Nobody seemed to want to let anybody go by, so I wasn't letting anybody by. We ended up with a penalty for holding up another driver. You know, just kind of the end of the qualifying kind of deal out there. We're pretty happy. Obviously we would have liked to have been on pole, but we didn't have enough today for that. We were fortunate enough to lock up the front row yesterday. We didn't have to use our tires too hard today because we were trying to save them for tomorrow."
PT GRABS PROVISIONAL POLE IN SAN JOSE
SAN JOSE, CA. (July 28, 2006) Paul grabbed the Provisional Pole in today's qualifying session on his last lap run with the Checkered flag having already fallen. PT had gone to P1 with a little time left on the clock only to see teammate AJ grab P1 back with seconds left. But Paul perservered and put in a blistering lap to grab P1 back and guarentee him a front row starting position on Sunday. PT ran a fast lap of 50.156 @ 103.573 MPH.
Paul: "We went out early because we thought that there were going to be lots of red flags, so we decided to get a lap in at the beginning of the session. Once we realized that our lap wasn't going to hold we went back out and did another stint, I'm very happy with my qualifying position, it will put us in great shape for tomorrow, and we still have two sets of Bridgestone Reds left. The track is vastly improved over last season, and should provide a great race this weekend and we thank Champ Car for getting things taken care of. We give Chris Kneifel a lot of grief when things are wrong, but he really worked hard to make sure this was right and I want to recognize him for that."