PT Podiums in Montreal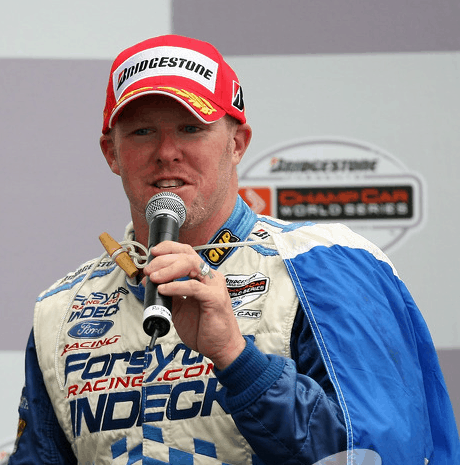 MONTREAL (August 28, 2006) – Yesterday PT showed up for the parade lap wearing a Mexican wrestling mask and a Quebec flag as a cape poking fun at his recent physical skirmishes. Once the race got underway rain was pouring and visibility was virtually non-existent. After just 6 laps the race was red flagged due to the treacherous conditions. PT was in third place when the race was stopped.
Today the rain subsided and the race was restarted with PT starting from P3. Paul held his place at the front of the pack for most all of the race. In what would become a timed race he found himself in P2 on lap 64 when a Yellow flag came out for debris. The field bunched up behind the pace car and PT had only Bourdais between him and a win. Unfortunately the Green and White flag came out together and PT had only one lap in which to try and pass Bourdais. Even with more push-to-pass left in PT's bank he was unable to get by the leader and he would finish the race in P2. This was Paul's best finish ever at the Circuit Gilles Villeneuve.
Paul: "It was a good day for us. Obviously, this has not been a great track for me since we've come here. I've had my best weekend ever here. I had a good time this weekend with the crowd. The crowd had a lot of fun with me. We turned it into a good result. I'm happy to come away with a podium finish here in Montréal. It was a good day."
CHAMP CAR GRAND PRIX OF MONTREAL POSTPONED BY RAIN, WILL BE RUN ON MONDAY
MONTREAL (August 27, 2006) – Due to the day-long rains that plagued the Montreal area on Sunday, today's Champ Car Grand Prix of Montreal, Round 11 of the Bridgestone Presents The Champ Car World Series Powered by Ford, was postponed until Monday.
The rains caused the 72-lap Champ Car Grand Prix of Montreal to be red-flagged after just six laps, while the Yokohama Presents The Champ Car Atlantic Championship Powered by Mazda race was halted by a downpour after just one lap. The weather prevented either race from restarting and the Champ Car World Series, along with management from the Grand Prix of Montreal, announced that it would postpone the event and pick up the race again on Monday.
"The safety of our competitors and our fans was the major concern today," said Champ Car President Steve Johnson. "There was a lot of water on the track and it would not have been safe to put our cars on track during the weather problems. We have two very tight championships on the line and we want to make sure they can be contested in a manner befitting a world-class racing series. We are looking forward to tomorrow."
PT P4 IN MONTREAL FINAL QUALIFYING
MONTREAL, Canada (August 26, 2006) – Paul ran fourth fastest in today's final practice. PT headed out on track with 24 minutes remaining in final Qualifying. He climbed as high as P2 with 18 minutes left in the session but finished in P4. His last lap was his fastest in a time of 1:20.669 @ 120.894 MPH.
Paul: "Well I'm pretty happy, It's the best I've ever qualified here in Montreal so it turned out to be a pretty good effort by the team, a top 4 qualifying position. It looks like the weather tomorrow is going to be a little iffy so I think the race is going to be pretty interesting. Overall it's a pretty satisfying weekend."
PT P5 IN MONTREAL QUALIFYING 1
MONTREAL, Canada (August 25, 2006) – Paul struggled with braking issues in today's qualifying session at the Circuit Gilles Villeneuve. PT finished P5 and ran a fast lap of 1:22.222 @ 118.611 MPH.
Paul: "It was kind of an average day. The car is pretty good but we still need to get a little more speed out of it. We are struggling in the braking zones. We need to be able to go a little deeper and carry more speed into the corner. This track always gets faster as it rubbers up so tomorrow the grip will be better. We'll keep working on the setup of the car during morning practice, and I think we'll have a good shot tomorrow. We didn't use any Reds today (the softer alternate Bridgestone tires) so we have two sets for tomorrow."