PT Finishes Fourth in Surfers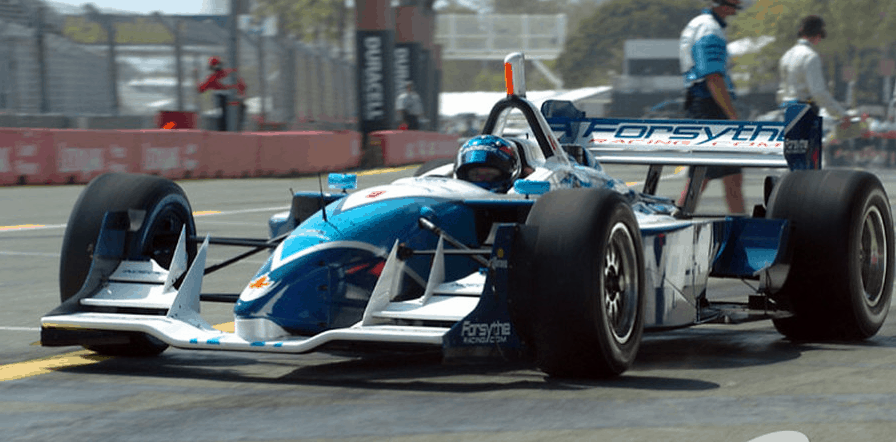 Surfers Paradise, Queensland, Australia – October 22, 2006 – What was shaping up to be a dominating performance by the Forsythe Team turned out to be a disaster today at the Lexmark Indy 300. Paul made contact with Will Power while exiting the pits after his first stop and cut a tire which forced him to come back in and place himself out of sequence with the leaders. The change of strategy worked in favor of the Canadian driver as he managed to turn very quick laps, including the best lap of the race, and get back to the front. PT was running second with only a handful of laps to go when he was assessed two different controversial penalties by the Champ Car officials and was forced to give up two positions; he finished the race in fourth.
Paul: "I'm so pissed off with Champ Car and it's officiating, I mean I can't even describe how upset I am. During the two incidents today with Mario (Dominguez) I was avoiding both of us crashing you know, and I get penalized and have to drop 2 positions because of it. So basically you are damned if you do and you are damned if you don't, if you make contact then they penalize you for that also. And what happened during the second incident at the chicane I feel that it was just a fix to get one of the Team Australia cars up on the podium, I mean it's so clear it's ridiculous. It's extremely frustrating because this was our race to win. We had a problem during the first pit stop when we touched with Will Power and cut a tire, we had to come back in and get out of sequence, the new strategy worked beautifully and we were right up at the front at the end of the race but then they took it from us."
PT QUALIFIES THIRD IN AUSTRALIA
Surfers Paradise, Queensland, Australia – October 21, 2006 – The Forsythe duo of PT and A.J. Allmendinger will line up third and seventh for Sunday's Lexmark Indy 300 after what turned out to be a frustrating qualifying session for the blue and white team. Paul, who was second quickest in morning practice, had to slow down repeatedly during his stint due to slow traffic on the race track and was not able to squeeze the maximum speed out of his #7 Indeck Champ Car. Allmendinger led morning practice and turned a quick enough lap during qualifying to put him on the front row, unfortunately he crossed the finish line only a few seconds after a red flag came out and his flying lap was deleted from the time charts. This will be only the second time that the young American driver will start a race this Season from outside the top 4.
Paul: "I'm happy with how the performance of the team has rebounded from yesterday. Obviously yesterday was a huge disappointment not get to go qualify because I felt that we had been quick right from the drop of the flag yesterday. The car would not start for us yesterday. But you know, the session went out well, we went out early to get a lap time and the second run, I got kind of stuck behind Oriol Servia, and he held me up for two laps of the four laps we got out there before it went red. So it was a little bit frustrating, because I know there was still a lot of time left. I had a couple of laps that were much, much quicker than what we ran in the first set.
But hats off to Will (Power) and Team Australia. Tremendous accomplishment here in his hometown and there's always a lot of pressure to perform. I've been in the same thing in Toronto, and when you can score a pole in front of all your family and friends, it's a great feeling."
DIFFICULT DAY FOR FORSYTHE CHAMPIONSHIP RACING DOWN UNDER
Surfers Paradise, Queensland, Australia – October 20th, 2006 – Provisional qualifying for the Lexmark Indy 300 turned out to be a disaster today for the Forsythe Team. A crash in morning practice forced PT to switch over to his backup car, as the car was being prepped for qualifying an engine problem was discovered which kept the 2003 Champ Car Champion from turning any laps during the session. During qualifying A.J. Allmendinger was penalized with the loss of his fastest lap after causing a red flag when his #7 Indeck Champ Car made contact with the concrete wall, his second quickest lap placed him fifth in the provisional grid for Sunday's race. Both Forsythe drivers will make an attempt to capture the Bridgestone Pole Position on Saturday in their backup cars.
Paul: "Well today was pretty much a disaster. During practice I was going thorough the fast chicanes and just barely touched the tires at the apex and my front left suspension broke, I had no steering, I went straight into the wall. We had to go to the backup car for qualifying but we were never able to leave the pits because of an engine problem. So basically we achieved absolutely nothing today, hopefully tomorrow we'll have better luck and we'll actually be able to go out and get some laps in."