PT in Mont Tremblant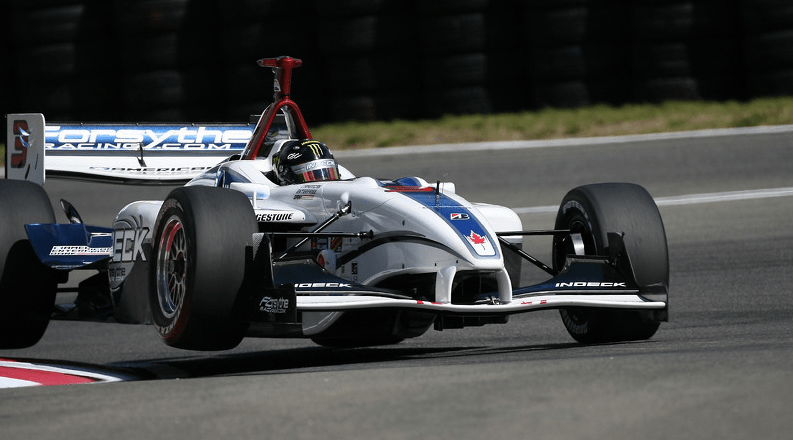 WHEN IT RAINS, IT POURS – PT FINISHES P15
Mont Tremblant, Quebec, Canada – July 1, 2007 – PT started out today in rough fashion by damaging his primary car in morning practice forcing him to start the race in his back-up car from the back of the grid. A start that saw many cars having problems, three cars stalled on the grid and polesitter Tristan Gommendy could not even fire his car. This unusual start and a couple passes put PT into P11 by lap 3. On lap 14 Will Power hit Paul from behind while attempting a pass which spun PT and moved him back to P14. This prompted a different pit strategy which had Paul coming in early for fuel on lap 20. Ten laps later rain was coming down and a full course caution flag was thrown due to a car off of the track. On the restart PT's engine let go…end of a rough day.
Paul: "We just had a bad start to the day, I went off this morning, we damaged the car, we had to start at the back in a back-up car. We were trying all kinds of different strategies to try and get out of sequence to everybody. Then coming to the restart the engine let go. When it rains it pours."
PT GOES P11 IN MOSTLY WET FINAL QUALIFYING
Mont Tremblant, Quebec, Canada – June 30, 2007 – PT found himself very breifly at the top of the leader board towards the end of today's session but when the Checkered flag dropped so had his standing. He finished in P12 in a qualifying session run mostly under wet conditions. By the end of the 30 minutes the track had dried out quite a bit but today's times were still far off of yesterdays in Q1. Paul ran a fast lap of 1:22.226 @ 114.696 MPH.
Paul: "We timed it perfectly and we were going to get our last lap in at the right time but Katherine (Legge) spun in front of me coming into the chicane and I had to go straight to avoid her so that was it, we were quickest and dropped like a brick because everybody was closing laps at that time when the track was drying. This is completely frustrating for the whole team, yesterday we struggled but this morning we improved the car a bit, when we went out right before qualifying the car was way better. But then it started raining and we never got to show our speed, we could've been easily in the top five, we just can't catch a break. I guess we used up all our good luck last week."
Tomorrow we just have to survive the first corner and try not to get into trouble like we did last week, we are probably going to have to go on an alternate strategy since we are so far back, so if a yellow comes out we might try to pit early and get some clear track in front of us. It's going to be tough, this track is fast and narrow in some places, so passing will be very tricky."
PT STRUGGLES AT MONT TREMBLANT
Mont Tremblant, Quebec, Canada – June 29, 2007 – PT and Oriol Servia qualified provisionally for the inaugural Champ Car Mont Tremblant in the 11th and 14th positions. Thousands of spectators watched as the blue and white INDECK/Forsythe cars made their way around this beautiful 2.621 mile natural terrain course but unfortunately not at the speed they would've liked.
Paul and his #3 crew struggled with braking problems and lack of grip all day and will spend this afternoon studying the data in order to detect and repair the problem. Servia's day turned out to be a frustrating one as well as a series of mechanical problems during practice and qualifying severely limited the amount of laps that the Spaniard managed to turn, hurting him immensely as he is one of the few drivers that didn't have a chance to test here in may and has never seen this track before.
Paul: "We just can't seem to find a way to fix the balance of the car, I try to carry speed through the corners but the front just plows and it won't turn. This is a really fast track so you really need to be able to carry the speed through the corners to get a good laptime. I'm also having problems with the brakes, they are very inconsistent you never know what to expect. So overall not a very good day for us, we need to be quicker, we have a lot of work to do, hopefully tomorrow we'll find some speed and get back into the top five."