PT Finishes P11 in San Jose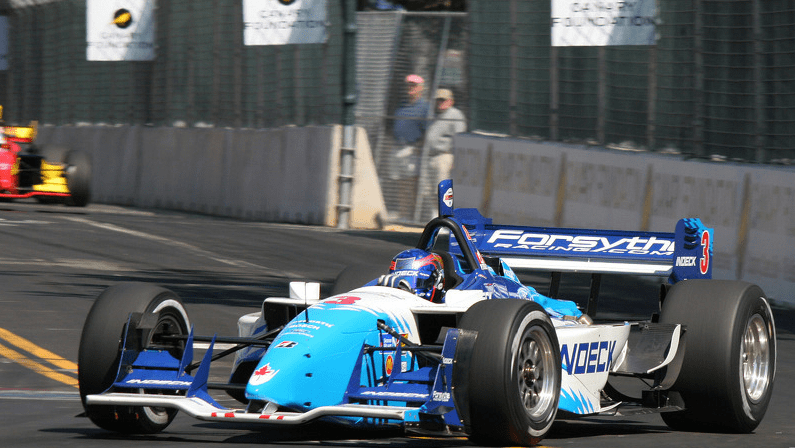 PT's race got off to a great start with him moving up to P6 from his starting grid P11 by the second lap. By the fifth lap he had moved up into P3. Paul was the first of the leaders to pit which came on lap 39. A quick stop and a quick shot of Cosworth Power to Pass to assist his out lap and he was on his way. On lap 58 the Forsythe Team radioed to him "Forget about fuel and pour it on." This may have been an omen of sorts, on lap 77 a apparent miscommunication between PT and his team saw him stay out one lap too long and run the car out of fuel just at pit in. The Forsythe crew were able to push him back to his pit box and refuel, total pit stop time 113.448 seconds. This essentially wiped out any chance of a podium with PT falling back 2 laps due to the ultra lengthy stop. He was able to make up one position from P12 to P11 which is where he finished. PT ran a fast lap of 50.537 at 102.792 MPH.
Paul: "It's disappointing, we had a solid fourth place finish and we lost it. I made a great start, I passed a bunch of cars on the outside coming into the hairpin. Then before the last pit stop we lost radio transmission and I couldn't hear what the team was saying. I never heard the radio transmission when they were calling me in so I went a lap longer and that was it, we ran out of fuel."
PT P11 IN SAN JOSE FINAL QUALIFYING
PT's brake issues continued again today although yesterdays condition was improved upon, as was his speed. The first practice session of the day saw him unable to stop the car in the final corner resulting in a lost front wing and bent front wishbone courtesy of the concrete barriers. The Forsythe crew repaired his primary car in time for quailfying and PT headed out early in the session. He was able to get in his full 15 lap allotment with two pit stops as well. PT ran a fast lap of 49.270 at 105.435 MPH.
Paul: "It was extremely close today, we should've gone a bit quickest but we just weren't able to improve with the Red Bridgestone Potenzas on our second stint. It's very frustrating because the field is so tight and not putting a lap in towards the end of qualifying really hurt us. The car has improved quite a bit, we've been having braking problems throughout the weekend but we made changes which improved that situation, I think we will be okay for the race the problem is our starting position"
PT P11 IN SAN JOSE Q1
PT was on track immediately as the qualifying session began today. He found he had a bit of a nervous braking issue, braking fine into the turn but pushing after taking his foot off the pedal. A pit stop was made to work on the car balance and Paul headed back out onto the course with just under 10 minutes left in the session. He intially moved up the leader board to P6 but then had a spin into the turnoff area of Turn 1, he kept the car running and headed back to the pits to end his session. PT ran a fast lap of 50.079 at 103.732 MPH.
Paul: "It's been a frustrating day for sure; I just can't get a decent lap in. We've been having a lot of inconsistency under braking and every time I try to push and find some time I'm just locking up all over the place, I just can't get the car to stop. We have a lot of work to do so we can figure out what is going on and what we need to do to fix it, we need the car to be more consistent so I know when I can push and when I can't without any big surprises."