Paul Tracy at Road America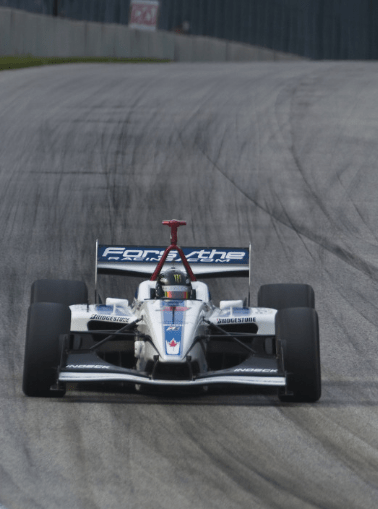 PT FINISHES P12 AT ROAD AMERICA
Starting from deep in the field PT had his work cut out for him from the start. Not to mention an ill handling car all weekend. A first lap incident in turn 5 with Ryan Dalziel and Simon Pagenaud had Paul stuck with a stalled car losing time to the field. After getting the car fired back up he quickly hit the pits for fuel and to swap out the Bridgestone Reds for the blacks, the tire choice that had proven faster this weekend. By lap 15 pit stops saw PT cycle through to P5 which was as high in the order he would get throughout the race. He continued to hold his own right around the top ten the rest of the race only to seem to have a problem out of Hurry Downs on the final lap letting him be passed by Pagenaud for P11. PT ran 53 laps in the race with a time of 1:42:33.647 at an average speed of 125.512 MPH.
Paul: "It was just one of those races where I got hit at the start and the car was damaged, so we basically struggled around the whole race and just had to hold on and pick up some points. We really weren't a factor to do anything today, we just had to stay on the track and finish."
PT FINISHES P15 IN ELKHART LAKE FINAL QUALIFYING
PT's qualifying session started out with a brush with the tire wall early on causing a Red flag and also losing the front wing in the process. He was able to continue and returned to the pits for repairs. Unfortunately even when back out on track Paul did not seem to have the speed or a clear enough track to match his time of yesterday. PT ran a fast lap of 1:47.132 at 136.027 MPH.
Paul: "We've been struggling all weekend with the car, I can't get to terms with the brakes and the lack of grip that we have. To turn a good lap time around here the car has to be balanced right and we just cant seem to find a balance on the car. It's hard to put a good lap together with out the balance being right. We haven't got a plan set for tomorrow yet; it's all going to depend on how we get through first corner and how many cars we can pass on the first lap. We definitely don't have a car to win the race, if we can finish in the top eight that would be good."
PT FINISHES P14 IN ELKHART LAKE Q1
PT's race weekend at Road America started with a car suffering braking issues and a nervous rear end in the turns. His qualifying session saw him unable to break into the top ten. With about a minute to go in the session PT had a brief off in Turn 3 but recovered to get back on course to finish out qualifying unscathed. PT ran a fast lap of 1:44.716 at 139.165 MPH.
Paul: "Obviously this isn't where we wanted to be after qualifying, right out of the box the car was very difficult to drive. We just had no grip and the rear kept stepping out, you just couldn't carry any speed through the corners. We made a lot of changes and the car got better but we kinda fell behind the eight ball so now we have to try and catch up."