Paul Tracy in Zolder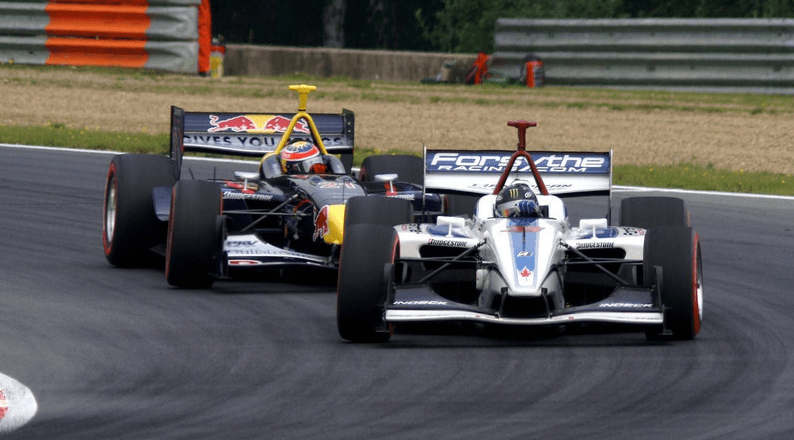 PT FINISHES P10 IN ZOLDER
PT's race was a back and forth affair which saw an early pit stop that put him on a different cycle than all but 3 other drivers. The strategy saw him up as high as P3 but unfortunately when pit stops cycled through without any cautions he was moved back in the field. He would finish the day in P10 running a fast lap of 1:16.079 @ 117.920 MPH.
Paul: "That was a difficult race. Something happened to the diff' at the beginning of the race, I would get on the power during the cautions to heat up the rear tires and only one tire would spin. That made the car extremely difficult to drive, I was spinning the tires for a hundred yards coming out of the corners. I was trying to keep up with everybody else and save fuel at the same time but that is very difficult to do with an ill handling car. I'm glad we could get a top ten result out of it and now we'll just move on to Assen and hope for better luck there."
PT QUALIFIES SEVENTH AT ZOLDER
Zolder, Belgium – August 25, 2007 – The #3 INDECK crew did a brilliant job repairing their DP01 Champ Car after PT hit the tirewall in the closing moments of morning practice. The 2003 Champion quickly got back up to speed in qualifying and sat fourth on the standings after his first run. The Canadian was confident that he could improve on his time and went out with Red Bridgestone Potenzas for his second stint but was never able to turn a quicker lap due to traffic on the race track. His lap of 1m13.407s @ 122.212 MPH places him seventh on the grid for Sunday's race.
Paul: "That was a frustrating session. We made a really good call going out early for the first stint and we had clear track and managed to put in a quick lap. During that lap I lost some time in a couple of spots so I knew that we could still go a few tenths quicker on our second stint. We went out with a few minutes with traffic all around us, (Tristan) Gommendy was in front of me and I kept catching him every time I tried to go fast and just couldn't put a lap together. Our car is good, we are close, we still need to do some work but it's nice to know that we are in the ballpark."
PT TENTH IN PROVISIONAL QUALIFYING AT ZOLDER
Zolder, Belgium – August 24, 2007 – After having a few days to relax, recover from jetlag, and enjoy the beautiful Belgian scenery, the Forsythe Duo of Oriol Servia and Paul Tracy got back on a track for opening day at the Belgian Grand Prix at Circuit Zolder. Both drivers encountered problems during morning practice but managed to recover and secure a top ten provisional qualifying spot at the 2.492 mile permanent road circuit.
Paul's first run in morning practice lasted only a few seconds as he was an innocent casualty in a wild four car accident which damaged his front wing and suspension. The #3 INDECK crew quickly repaired the damage and sent him back out with enough time to complete 15 laps. During qualifying PT turned a lap of 1m.14.829s placing him tenth in the provisional grid for Sunday's race.
Paul: "We've definitely made a lot of improvements to the car from the previous events. We still need to find more speed but the car is pretty good and now we have something that we can work with. My fast lap wasn't really that good, I didn't get the most out of it through the first two corners and lost a lot of time there. The car has a lot of understeer so I have to wait to get back on the throttle in most corners, I think that if we can fix the balance we can get more aggressive and pick up some time tomorrow."