PT Down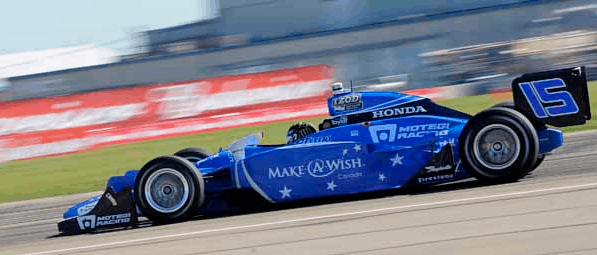 PT P9 DOWN UNDER
Surfers Paradise – October 20, 2007 – Starting from the second row, an incident in the first turn sent PT towards the back of the field and then onto a different pit strategy. Paul ran up towards the front for a large part of the race but pit stops eventually cycled through and PT found himself low on fuel. A last lap stop to top off would put him from a potnetial podium spot to P9. PT ran a fast lap of 1:33.409 @ 107.720 MPH.
Paul: "I made a good start, got off the line well, and then got squeezed in the first corner by Servia. We touched just a little bit and I spun and that put us at the back, so we basically had to get on a different strategy. We did that and were able to get back towards the front, lead a little bit, try to make the strategy work. We just needed half a lap more of yellow and it never came. The yellows were all falling our way in the beginning and the strategy was working well. We were maybe in a position to win the race. We were going to try to go for it, just try to run. We thought we could make it around maybe two-thirds of the last lap, but it ran out coming onto the front straightaway on the white flag lap, so I came into the pits and by the time I got into the pits I had run out of fuel in the pit box and it wouldn't start again. It's disappointing, but we were up there, we made something happen. We made good out of a bad start. The team is working really hard and we're getting back to where we should be finishing up on podiums. We just need some good luck."
PT P2 IN FINAL QUALIFYING
Surfers Paradise – October 19, 2007 – PT finished todays final qualifying in P2. He was one of the last drivers to run a fast lap in final qualifying and despite hanging it out there on the edge in every corner on that lap he could still not best the time of native son Will Power who set a new track record in todays session. PT ran a fast lap of 1:30.426 @ 111.273 MPH.
Paul: "This is a very difficult track, and it takes having a trouble-free day. That's pretty difficult to achieve around here because there always seems to be a lot of accidents. This track is very, very tough, very physical, very hard on a car. Small mistakes on a chicane section can turn into a catastrophe, as we saw with Sebastien yesterday. Just a little small mistake ends up being a huge mistake. Today was great. We've been working very hard for this all year to get back into the fold of being able to contend."
PT GOES P4 IN Q1 DOWN UNDER
Surfers Paradise – October 18, 2007 – PT finished todays final practice in P4. Paul hit the track today about 6 minutes into the Q1 session. He finished qualifying in P4 running a fast lap of 1:31.820 @ 109.584 MPH.
Paul: "It's a lot better than we've run, so it's great to be fourth. I was a little disappointed I only got one qualifying lap. I got traffic on the first run and after that it was spread and there was a lot of traffic and the session became very fragmented. That was frustrating because I felt that we could have been right there with Will Power and the other guys, but they were on reds and I was on blacks. We're right where we need to be and we're back in the game. It feels good. It could have been better but we're still happy with where we ended up."