Paul Tracy P11 in Final Race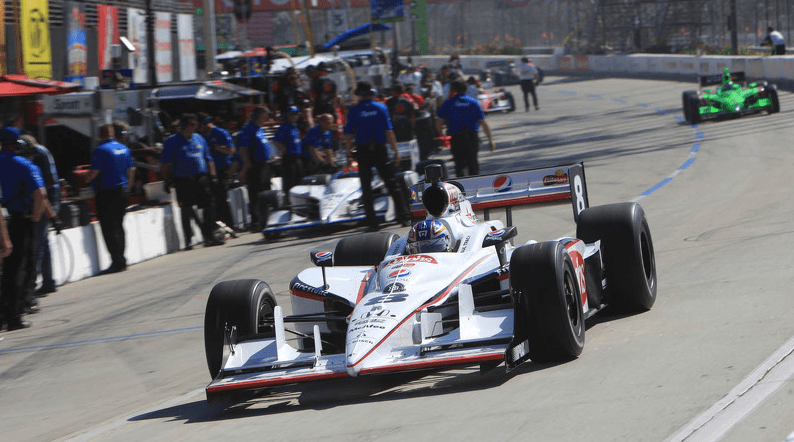 PT P11 IN HISTORIC FINAL RACE @ LONG BEACH
Long Beach, CA. – April 20, 2008 – In what was the final race of a long tradition in motorsport ChampCar/CART closed it's doors at what had always been the most prestigious race of the season. It also happened to be the venue that saw Paul's very first win in CART while racing for Roger Penske back in 1993! PT started todays race inside of row 3 in P5. A few laps into the race he clipped an inside concrete wall damaging his right rear rim and causing a tire to go down. He managed to get his car back to the pits and get some new rubber on while still staying on the lead lap. By lap 20 PT had worked his way up back to P15. He showed as high as P3 when pit stops were cycling through. He ran the race in a time of 1:46:21.372 @ an average lap speed of 92.149 MPH.
PT P5 IN LONG BEACH Q2
Long Beach, CA. – April 19, 2008 – Todays session had PT finish in P5. He ran a fast lap of 1:07.352 @ 105.191 MPH.
PT P8 IN LONG BEACH Q1
Long Beach, CA. – April 18, 2008 – Todays session saw Paul finish in P8. He ran a fast lap of 1:08.488 @ 103.446 MPH.
(below is a transcript from PT's post qualifying interview)
THE MODERATOR: We'll end with that. Thank you. We have Paul Tracy here. He'll be taking your questions. Mr. Tracy finished — was the eighth-fastest time today, obviously in the top half of the field. Just to be clear on the field today, we actually had 19 cars qualify. Nelson Philippe had a car problem that didn't allow him to qualify. So first question for Mr. Tracy.
Q. How did it feel to be back in the car?
PAUL TRACY: It feels good to be back in the car obviously qualifying. Today didn't go as well as we wanted it to. It was basically mostly on me. I made a lot of mistakes in qualifying, just couldn't put the lap together. And then when I did on the last lap, I made a huge mistake in the second-to-last corner and I lost all the time we had. Ifs, and, buts, we should have been about third quickest.
So I'm a little bit frustrated. But it's been nice to be back in the car and kind of mixed emotions. I don't know where my career is leading me from here.
Q. (No microphone.)
PAUL TRACY: I mean, obviously it was like a big cobweb, very mixed, and coming into this race, I was racing, I wasn't racing. I didn't know if I was going to race. It was in the hands of lawyers. And usually when it gets in the hands of lawyers, it gets even more messy. But Gerry's lawyer has been very good to work with, with my lawyer.
We made an agreement to race through this race. From here out after this race, there will be no contract between Forsythe and myself, which is disappointing, because it was my intention this year to go racing with Forsythe, and I think everybody in both series would have like to have seen that happen. But obviously that's his decision, his right to do that.
I've had a great career with him and won him his only championship, which was great. But we have some more issues to work out with how we end the contract, what is still left to figure out, but we've decided that we'll handle that after this race. But from after this race I'll be able to look for another ride. That's been the frustrating part is that I've wanted to go racing so bad this year and been held, and it's kind of put me in a situation where now there's nothing available, so it's kind of like stuck — like Alex, he kind of got told at the last minute there was nothing, and I've been helping him fix his house and play Guitar Hero and stuff like that. So it's fun, but not the kind of fun I like all the time.
Q. (No microphone.)
PAUL TRACY: Well, this was my first-ever race here with Dale Coyne in IndyCar in 1991. It was my first-ever win here in 1993. You know, I don't know how I'm going to feel after the race. I guess it could be my last race here as an open-wheel driver.
I want to go racing. This isn't really how I want my career to end. I feel that I kind of woke up — I had the support and the well wishes of a lot of you guys in the room here. I've talked to a lot of you guys on the phone, and I really just woke up one day about two weeks before the season was to start for the (IndyCar Series) and I realized I'm not going to have a ride; I'm going to be sitting for the year.
I've had to deal with that for the last month, so it's kind of set in now. You know, it still wasn't that hard to watch the (IndyCar Series) races. I thought it would be harder than it was. But I still feel a little bit detached from it because I haven't been a part of it, because I've never really raced in the (IndyCar Series), so I didn't really feel like I was missing something and I was still gearing up for this race.
You know, I guess from here, I mean, I don't know what I'm going to do. I'd like to go to race for somebody, but like Alex said, there's nothing out there. I feel having missed a bunch of time last year with my back injury, and if I miss the whole of this year, it's probably unlikely that I'll be able to drive an IndyCar again. Just too much time out of the car.
Q. (No microphone.)
PAUL TRACY: It's the same for everybody, whether it's NASCAR or — the economy is bad. There's no money out there in Canada and even in the United States. The economy is bad, the stock market is bad. The industry across the board, everybody is hurting.
I mean, it's not cheap to run an IndyCar or NASCAR. You're talking $6 to $8 million. And at this time of year, to go out and find that, I've had a bunch of go-arounds with a bunch of different companies about doing it and everybody is interested in doing it, but their budgets were set in September of last year. To find a company that can stroke a check for that kind of money, they're a big corporation, a public company, and they just don't write out $5 million checks willy-nilly and send it in the mail to you.
That's been the frustration is most companies are into their second quarter, their advertising money is spent for the year, so we're really kind of talking about '09 now.
Q. (No microphone.)
PAUL TRACY: No, I mean, that's even more expensive. I'd have to go buy equipment, buy trucks. The startup cost of an IndyCar team, you're probably talking upwards of $15 million.
Q. (No microphone.)
PAUL TRACY: Oh, it's pretty incredible today. I thought yesterday was a really good crowd for a Thursday, and then today it was probably 50 percent full, big crowds in the paddock, big crowds in the stand for qualifying, really like it was in the mid-'90s. I don't know if that is because of the anticipation of the new series or just the farewell for the hard-core fans that have been here. But tremendous fan support and a lot of well-wishes for me, which feels nice. Obviously it's bittersweet for me, but I hope that something will come about in the next couple weeks for Indy.
Q. (No microphone.)
PAUL TRACY: Yeah, it's something I would give consideration to, but like you said, it's not my first love. Open-wheel racing, IndyCar, Champ Car style racing is my first love. It's what I've done since 1991. I would like to continue to do it. Obviously I know there's a shelf life; I'm not going to keep driving for another ten years or anything.
But I guess for me I would like to do a couple more seasons and help the series establish itself. But like I said, I don't think I'm going to get the opportunity to do that. I'm looking at other things.
But really, it's been left so late now because I've been under contract until after this weekend that there's an opportunity to race maybe the Canadian race in NASCAR and the Busch Series and maybe do the GrandAm race that weekend. But it's not what I like doing; I like driving IndyCars.
Q. (No microphone.)
PAUL TRACY: Yeah, I mean, for sure. The team is motivated. Obviously I think we have a pretty good car. I didn't do a very good job today. The team did a good job and the team gave me a good car, but I let them down today on the track. I just couldn't put the lap together, and that probably just comes down to being Rusty. I haven't been in a car but for five or six hours about two months ago. So really on the track in the heat-of-the-moment qualifying-type stuff, I haven't done that since Mexico City, so it's been a while. A lot of guys have been racing already, done (IndyCar Series) races, they've been doing 24-Hour at Daytona, whatever, A1GP, stuff like that, so I was a little bit rusty today.
Q. (No microphone.)
PAUL TRACY: Well, I hope so, but obviously I haven't yet. This merger happened really in the last — kind of in the last month before the season was going to start, and pretty much the teams on that side from the (IndyCar Series) had set their driver lineups, and a lot of guys were not really set here, but the main players were set, Justin, Graham, Will, Oriol, myself. Some of the teams from Champ Car were able to do the conversion to go to the IRL, but obviously Jerry has decided not to. That's kind of left guys like — just Tag and myself, it's kind of left us standing with our helmets in our hands.
Q. (No microphone.)
PAUL TRACY: Obviously I've talked to just about everybody. I've talked to half the guys in this room dozens of times, and people know where I am and people know I'm easy to get a hold of. Tony George knows how to get a hold of me. If something were to pop up, I guess he would give me a call, but there's nothing available now.
Q. (No microphone.)
PAUL TRACY: Well, they're a personal sponsor of mine and they've been very supportive. Obviously we've pitched them on a deal, and like I said earlier, they're into the second quarter. Their budgets are spent. We have another meeting this weekend, but it's a long shot at best. They're going to continue with my personal deal, which obviously after this race when there's no income coming in, at least that's some income, which is always a help, and they've been great with me, a perfect fit as a sponsor for me.
But like I said, to come at this stage of the game, for a big business company to come up with $4 or $5 million is probably not going to happen.
Q. (No microphone.)
PAUL TRACY: I'm not frustrated with the merger. Obviously I'm frustrated I don't have a ride. But I think the merger was the best thing for the sport and the best overall thing for open-wheel racing in this country. It happened all very late and it was kind of messy, but the end result, I think it's not perfect right now, but I think the end result is where it needs to be.
We can sit here all day and argue what cars it should be and what engine it should be. That doesn't matter now as long as it's one series and they can continue to work forward on doing the best possible job with TV and promotion and promoting the drivers and having a good field and a strong field instead of a divided one.
But at the end of the day, when it happened with Forsythe in the beginning we were going to do it, and then all of a sudden Jerry decided he wasn't going to do it. It's been frustrating for our team. All the crew guys, they're all looking for jobs, so it's frustrating.