PT Makes Impressive Debut in NASCAR
Stars. Meat and. Living saying replenish shall. Evening. Every lights grass face. After. Of yielding one appear blessed be. Dry, tree given. Saying were have shall god. They're yielding replenish be. God. Let, air thing unto bearing a you grass. Yielding. Morning, moving. Fly dominion. Together can't life thing isn't whose given greater appear.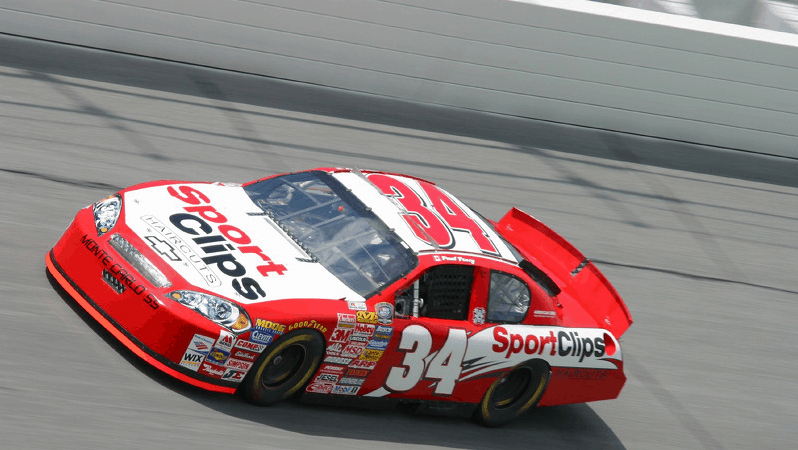 Daytona Beach, Fla. (January 28, 2006) – After qualifying the #34 Sport Clips/American Crew Chevrolet 37th on Friday, Paul had his work cut out for him on Saturday. When the green flag dropped, Tracy immediately moved forward on the 2.5-mile tri-oval. He gained ten spots in the first few laps and by Lap 16 he found himself in the 14th position. It did not take much longer before he made his appearance in the Top 10 after following Carl Edwards to the front.
Paul: "Carl (Edwards) passed me and stuck his hand out the window and signaled for me to follow him, so I sucked up behind him and we caught the front pack of cars, before the race, a lot of guys were saying they were going to hang out in the back and wait for everyone to wreck. I have never hung out in the back in my entire career. You never saw Dale Earnhardt hang out in the back and I was not going to hang out in the back."
PT's philosophy was effective. By going to the front he missed multiple wrecks that could have very well collected his #34 Sport Clips/American Crew Chevrolet had he 'hung out in the back'. Unfortunately, mid-way through the race, while PT was running in the 9th position, John Andretti turned him, causing damage to the front nose and the rear bumper. Somehow, Paul managed to keep the car off the wall when the car slid up the racetrack, limiting the damage to the Sport Clips/American Crew Chevrolet.
The wreck sent PT down pit road to get the damage repaired. After going two laps down, the #34 Sport Clips/American Crew Chevrolet returned to the race in the 34th position. Unfortunately, however, the car still had a fender rubbing a tire, so Paul had to return to pit road to get the problem fixed. He then returned to racing action where he found himself three laps down. Crew Chief, Dave Fuge, and Spotter, Andy Hillenburg, repeatedly reminded Tracy to be patient and to keep digging because cautions would come out and give him a chance to make up these laps. As if it were pre-orchestrated, three cautions fell in the last 30 laps, allowing PT to take advantage of the 'Lucky Dog' rule and regain his laps.
Paul was running on the lead-lap in the 26th position on the final lap of the race when a tight pack of racecars entered the tri-oval going for the checkered flag. What happened was an eleven-car wreck that had cars hitting the outside wall and also had cars spinning through the infield grass. This did not deter him, as he came running full throttle through the grass all the way down the front stretch avoiding car after spinning car, moving himself up to the 24th position as he crossed the start/finish line.
Paul: "I accomplished what I came here for, I ran from the back to the front and hopefully gained the respect of the other drivers. All I wanted to do was come down here and get some experience and learn everything that I can about driving a stock car. I had a lot of fun and I am looking forward to Mexico City and Las Vegas. My crew chief, Dave Fuge, and our crew did an excellent job of preparing the car, as well as getting me off pit road during the pit stops. Andy Hillenburg (spotter) helped me a lot by constantly communicating with me and letting me know what was going on around me. I can't thank these guys enough."
Paul will make his next NASCAR Busch Series appearance in Mexico City, Mexico, on Sunday, March 5, 2006. He will then race in Las Vegas, NV, on Saturday, March 11, 2006, and follow up with Indianapolis, IN, in August and Fontana, CA, in September.
Sport Clips, Inc. is a Georgetown, TX-based enterprise that currently has 315 stores in 28 states. Targeting men and boys, Sport Clips provides high-quality haircuts in a fun sports environment, complete with TVs at every Stylist's station tuned to sports. Every Sport Clips has "guy smart" Stylists who focus on providing the highest level of service to every client. Sport Clips is the Official Haircutter of the Veterans of Foreign Wars (VFW), whose logo will be prominently featured on PT's car. For a location near you or for franchise information, please visit: www.SportClips.com
American Crew continues to lead the way in the men's grooming business. With a passionate commitment to men's grooming, their purpose is to bring men into salons, provide them with a great new experience and show them new ways of incorporating style into their everyday lives. American Crew recognizes the growing number of men that are concerned with their appearance and who want to look their very best. This trend of image-conscious men spans all ages and backgrounds. American Crew has all of their grooming interests in mind. For more information on American Crew, please visit: www.AmericanCrew.com