PT to Join Kodak EasyShare Team for Rolex 24 at Daytona
FORT WORTH, Dec. 8 – After inviting 2003 Champ Car World Series champion Paul Tracy to participate in a tire test at Homestead-Miami Speedway in Homestead, Fla. last week, Bell Motorsports and car owner Forest Barber went a step further and invited Tracy to be part of their driver lineup for the prestigious Rolex 24 endurance sports car race at Daytona International Speedway in Daytona Beach, Fla. Feb. 3-6.
Barber said the defending Rolex 24-winning team anticipates a five-driver roster for its Kodak EasyShare DORAN JE4 Pontiac No. 54. Tracy will join Terry Borcheller, the 2003 Daytona Prototype driver champion, and Barber in the prestigious twice-around-the-clock enduro, with two other drivers to be named later.
One of those is expected to be Christian Fittipaldi, who was part of the winning squad in 2004 and also drove for the team in the last four Rolex Sports Car Series races of 2004.
Both Barber and team owner Jim Bell were very impressed with Tracy's professionalism and performance behind the wheel at the Homestead test.
"He was very respectful of the equipment, and did everything we asked him to do," Barber said. "I was watching him carefully, and without even pushing it he was running competitive laps by his second lap in the car. He was comfortable in the car, he got along well with the team members, and he really wants to drive in the Rolex with us. We're pleased to be able to have a driver with his credentials join us as we try to defend our 2004 victory for Kodak."
Tracy, who will turn 36 on Dec. 17, finished fourth in the Champ Car World Series this year, winning at Long Beach, Calif. and Vancouver, B.C. in his native Canada. He leads all active champ car drivers in victories (28), poles (22) and laps led (3,672).
"I'm very excited to be part of the team that's coming back to defend its victory in the Rolex 24," Tracy said. "Just watching what went on at the test, Jim Bell runs a very organized, very motivated team. I'm not sure what the complete driver lineup will be yet, but I'm looking forward to getting to know everybody, getting more laps in the car at the Rolex test at Daytona in January, and getting ready for the start of the 24-Hour.
"My goal is to just do a good job for the team and hopefully to help it repeat as the Rolex 24 winners," Tracy continued. "I hadn't met Terry [Borcheller] before the Homestead test, but I know he has a lot of experience in the car and is very quick. My position on the team is a secondary role to help Terry win the 24-Hour again."
Tracy's first taste of driving a Daytona Prototype occurred at the Homestead test. He'll get his first laps around Daytona International Speedway when testing is held on DIS's 3.56-mile infield road course Jan. 7-9.
"I've been to Daytona before, but I've never been around the track," Tracy noted. "It'll be my first time in January, and I'm really looking forward to it.
"The DORAN JE4 is a lot different than what I currently drive," he added, referring to his Indeck/Forsythe Lola B2/00 Ford Cosworth champ car. "My first time in the car was really the first time I've driven a full-bodied race car with a roof and fenders."
Tracy actually has one endurance sports car victory to his credit, however. He won the Budweiser 650 at Mosport International Raceway in Bowmanville, Ontario in 1986.
"It was the last Can Am race they ever held at Mosport, but that was almost 20 years ago now, when I was 17," he said. "It was just a sprint race; there weren't any co-drivers. I was in a Frisbee. It had fenders and a big engine, but it was an open-cockpit car.
"It was very different than the DORAN JE4," he continued. "I didn't get a lot of time in the car at Homestead because we had to share, so I just tried to maximize the time I had. I'm looking forward to the next test at Daytona to get more seat time."
Tracy's participation with the Bell Motorsports/Feeds the Need Racing team actually came about through friendships formed through a different form of motorsports — powerboat racing.
Tracy spends some of his leisure time on his new 46-foot Skater in Miami and a 40-foot Skater on Lake Mead near Las Vegas, and one of his friends is 10-time world powerboat champion John Tomlinson.
Barber is a world-class boat racer too, and his championships in off-shore racing were won with Tomlinson as throttleman in the Drambuie on Ice 46-foot Skater catamaran. Together Tomlinson and Barber set several national and Union Internationale Motonautique (U.I.M.) speed records in that boat.
Tomlinson also co-owns TNT Custom Marine, an elite rigging and repair shop in Miami near Bell Motorsports' headquarters.
"John Tomlinson is a good friend of mine, and I mentioned to John that I'd like to do the Rolex 24," Tracy said. "He said, 'Well, Forest has a team,' and he got us together by phone. Forest suggested I do the Homestead test, everything went well, and away we go!"
Barber and Tomlinson are very close friends through powerboat racing.
"We've held each other's lives in our hands a number of times," Barber explained. "Off-shore racing is a uniquely 'bonding' experience in that it takes two people in harmony to operate the boat to its fullest potential. It is also very dangerous, and a mistake by either team member could be tragic.
"Johnny is the most capable and trustworthy person I have ever met," Barber continued. "His character is beyond reproach. He is a very strong Christian. Terry [Borcheller] reminds me of Johnny in several ways, and I count myself as very lucky to be friends with both of them. Paul has shared that bond of trust with Johnny through Johnny's maintenance and tuning, and throttling at 160 mph-plus, of Paul's 46-foot pleasure boat. I feel a link/kinship with Paul because of that."
The Rolex 24 will be televised live on the SPEED cable TV channel.
PT Finishes P10 in Mexico Season Closer, P4 for Season
The final race of the 2004 season saw Paul end up in P10 after starting P6 running a fast lap of 1:39:03.664 @ 104.622 MPH. A first lap incident saw PT going down several positions to find himself fighting a come from behind battle the rest of the race. All in all a very tough weekend to end the season. He finishes P4 in the overall points standings for the year just 1 point behind teammate Patrick Carpentier.
Paul:"You can't help being pumped up for this race in Mexico City … the Mexican fans are incredible; the grandstands were full and the noise was amazing! I had a good start but then was spun by Jimmy [Vasser] and we had some damage to the car – an under vane came off and we lost about 1% of our aerodynamic down force straight away. Later a spinning car in front of me caused a contact and whilst my end of race result was not what I'd hoped for, we did claw our way from 18th after the accidents back to a 10th place finish with some of those places made up on the track and some through great pit stops. I'm thankful to have been able to compete this year as the Champion, and congratulate Sebastien (Bourdais) on his victory here in Mexico – and of course my team mate Patrick Carpentier for his third place in the season standings –its been a good clean battle with Pat all year, and I'm pleased to have finished 4th overall. Through this season I've learned a lot and we'll come back next season even stronger … and I'd like to take this opportunity to also thank Ford and Cosworth for outstanding performance and reliability, and Bridgestone for consistent and high quality tires."
PT to Start from P6 on Race Day
Final qualifying saw Paul end up in P6 running a fast lap of 1:27.172, a little over a second off of pole winner Sebastian Bourdais' fastest lap. Since provisional pole winner Junqueria finished in P2 today PT will start on the outside of row 3 on tomorrow's grid.
Radio communication concerning handling issues during final qualifying – Neil Micklewright:"Is braking our problem?" Paul:"Everything is our problem!"
PT P5 in Q1 in Mexico
Despite jumping up to 4th from 11th in the final minutes of quaifying Paul eventually ended up in P5 running a fast lap of 1:27.971, a little less than a half second off of provisional pole winner Bruno Junqueria.
Paul:"The car was generally balanced, but lacking in grip – although with Bridgestone's option tire the grip definitely improved. The track is a bit bumpier than last year and I lost a bit of time with my downshift into turn 12 on my quick lap. And frankly I should have got my quick laps in earlier … we'll do better tomorrow."
PT Finishes P4 Down Under
Paul: "I am very disappointed. I had the race handled, but then I locked up the brakes and stalled the engine, which dropped us back to fourth place. The #1 Indeck Forsythe Championship Racing team did an outstanding job all weekend and we should have capped it off with a win, so I am a little frustrated right now. Overall, I happy with the way the weekend went, but I certainly think we had a car that could have won the race. Most of all I am sad for Patrick."
PT Grabs Pole Position @ Surfer's
Paul ended the final practice session in Surfer's Paradise a little early when he cut a chicane taking the bundle of tires placed as a corner marker with him. When it came time for final qualifying however he came out and proved he was the man down under by snatching away P1 from both the Newman/Haas boys. Bourdais had already secured the provisional pole yesterday and Junky was at the top of the charts in this last round when PT went out and ran the hottest lap of the session. This will be Paul's first pole position in Australia. PT ran a fast lap with a time of 1:33.556.
Paul: "It was good to have some good luck at the end. I'm looking forward to getting another victory here tomorrow. It would be great to be the first person to do it twice."
Paul's Race Over Before It Begins!!
It's a bet that even in Las Vegas few would have taken, betting that home town hero Paul Tracy would not turn a single lap in this weekends Bridgestone 400 Presented by Corona. Even before the cars left for their first pace car laps as a sign of things to come PT's water delivery system failed, but getting a drink of H2O would prove to be the least of his problems. As the engines were started and the cars pulled onto the track it was immediately evident that something was wrong with PT's car. Paul pulled into the pits before the Green Flag had even flown and on exiting the pits the right rear wheel had no power. PT took the car back around the track and brought it back in only to be told that his evening was over. There was apparently something broken in the differential. It was the early end to what had been a very frustrating weekend all together.
Paul: "I can't say how disappointed I am – not to be able to run in the race in my home town Las Vegas is very, very sad. We didn't have the quickest car during practice or qualifying, but we'd made some progress at least this afternoon, and you can never rule out anything on the ovals … dramatic come backs happen, and I'll always race hard if any points are on the table. But tonight I lost the drive to my rear right wheel because of a broken spline and there was nothing we could do to stay in the race. We were out before we'd even started."
PT Goes P11 @ Las Vegas in First Round of Qualifying
Paul ran early in the session and was in P2 by the end of his qualifying attempt but unfortunately his time would not hold up through the session. So far there doesn't seem to be a "home field" advantage for PT although fellow Vegas residents Jimmy Vasser and Patrick Carpentier finished at the top of the charts, the latter grabbing Provisional Pole. PT ran a fast lap with a time of 26.644 @ 202.672 MPH.
PT Has Strong Start Then It All Goes Downhill @ Laguna Seca
Photo: Robert QuinnPaul's race started out looking very promising, when the Green Flag dropped PT immediately soared past teammate Patrick Carpentier to take second place behind points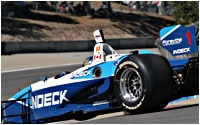 leader Bourdais. During that first lap Paul and Sebastian's cars then made slight contact leaving Bourdais with a flat rear tire and needing to pit. This saw PT running out in front where he stayed until the first round of pit stops. When PT and Carpentier made their stops Pat was able to beat Paul back out on track with both of them trailing new leader Tagliani who had chosen to pit earlier than the rest of the field. Just seven laps after his stop however Paul went off course in Turn Two suffering damage to his front wing assembly that would cause him to stop again for repairs. That put PT mid-pack and unfortunately he would be unable to regain much of what was lost from that incident. The disappointment or sheer frustration was evident after the Checkered Flag fell for race winner Carpentier, PT pulled into his pit box, got out of his car and without even removing his helmet climbed on his scooter with fiance' Patty on back and headed for his motorcoach not wanting to speak to anyone. PT ran the race with a time of 1:46:40.338 @ 99.446 MPH and finished 10th.
PT P2 in Laguna Seca Final Qualifying
Photo: Robert QuinnSaturday proved to be an eventful day for Paul. The first practice session saw PT running strong but with only about 8 minutes to go in the session PT had an off in Turn 6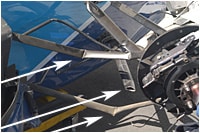 hitting the tire wall and ending the session early for all. Paul was fine but when his Forsythe Lola made it back to the paddock on the back of a wrecker it was quickly discovered that the damage to his car was substantial. The front wings and front right wishbones (see photo) were history and upon further examination it was determined that the tub itself had sustained damage. His crew quickly went to work swapping parts from his primary to his back up car relying on a combination of set-up from both his and teammate Carpentier's car. Having had to go to his back-up car meant that PT's time from Friday's qualifying session would be tossed and he would have to start from scratch in Q2. Once qualifying began it took a little while but he found himself in P1 on the timing charts. But by sessions end PT once again fell prey to points leader Sebastian Bourdais who grabbed yet another pole and another championship point. Despite PT running the second fastest time of the session he will start in the second row in tomorrow's race. He will be starting in P3 on the grid behind Bourdais and Carpentier, the latter who was 4th fastest in Q2 but will start in the front row from his provisional pole time yesterday. PT ran a fast lap of 1:09.515 @ 115.900 MPH.
Paul: "When I went off this morning, we did not think the car was that bad. From what I could see the front corner was bent, and the wing was off. However, something stuck underneath the car that caused a hole in the tub, destroying it completely. So we had to go to the spare, which was ready to go after switching a few parts. During our first run, I was just trying to get a feel for the car. We ran well, but on my second run, after putting on the softer tires, I was able to get a real good run, but we just couldn't catch Sebastien (Bourdais). I am looking forward to a good start tomorrow; it is a long race, so it will come down to keeping the pressure on and good fuel strategy. So we will see what happens tomorrow."
PT P3 in Laguna Seca Q1
Photo: Robert QuinnPaul ran fast throughout most of today's qualifying and occupied P1 on the leader board for a while to prove it. Unfortunately as the session wound down both teammate
Patrick Carpentier and points leader Sebastian Bourdais both topped PT's time to put him down to third on the ladder. After the session ended Paul did seem to think he had some more speed on tap for tomorrow, he finished today just 0.296 seconds behind the leader. He ran a fast lap of 1:10.214 @ 114.746 MPH.
Paul: "I am fairly pleased with our result today. On the first set of tires, we were able to post our quickest lap. During the second set, we put on the option tires and then waited. We waited too long looking for a gap because there was a lot of traffic out on the track. When I finally went out and got my tires to temp, I only had one lap to post a quicker time. I let Pat (Carpentier) get around me, then he went off the track which threw dust and rocks on my car and all over my helmet. I couldn't see for the next few turns, so I wasn't able to improve my time before the session came to an end."